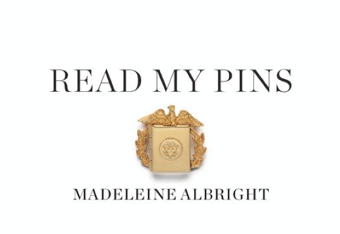 Madeleine Albright is celebrated for many things, but fashion is not usually one of them. Albright, however, has been a trailblazer in one particular niche: Pins. Her new book, Read My Pins offers a detailed look at fashionable diplomacy.
The book documents the same pins featured in an exhibition at the Museum of Arts and Design. The project is called Read My Pins: Stories from a Diplomat's Jewelry Box. Albright's extensive collection features around 300 pins, and while that does include a few expensive pieces, most of them are cheap, fun costume jewelry. The title is a play on George H. W. Bush's controversial phrase, "read my lips."



Albright tells NPR about the history of her relationship with the faux-jewels, which began when an Iraqi newspaper ran a poem about the diplomat, which contained the lines "Albright, Albright, all right, all right, you are the worst in this night" and called her an "unparalleled serpent." She recalls,
This all started when I was an ambassador at the United Nations, Sadam Hussein called me a serpent, and I had this one antique snake pin, and so when we were dealing with Iraq, I wore a snake pin. And I thought, 'well, this is fun.' Then I went out, and bought a bunch of costume jewelry to signal what my mood of the day was.
The serpent pin that sparked a trend in fashionable politics is featured on the back cover of her book.



Albright has a lot of critter pins, and her collection seems to feature a disproportionate number of insect pins. She reveals that some bug pins were symbolic "protest pins." She wore a huge bertle pin after the Russians were caught taping the State Department, to send a non-so-subtle message about her anger. When she wanted to "do a little stinging or deliver a tough message," she chose a wasp pin. Butterfly pins meant the opposite, as did her hot air balloons.



Albright also has several bird pins, some of which were gifts, some of which she gave as gifts. Apparently, choosing the right present for a foreign diplomat is a tricky thing, which requires a good deal of care. She says she tried to find "mementos that reflected the United States," like this gold eagle. She also wore an eagle pin to talk with Craig Ferguson, to reflect the fact that they are both naturalized Americans, "which makes us very patriotic."