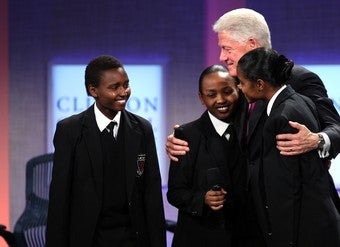 Yesterday the Clinton Global Initiative hosted a panel on "Investing in Women and Children," and panelists spoke movingly about the need for more funding for female empowerment. But for big business, are women and girls another passing fad?
Edna Adan, founder of a hospital in Somalia, laid out the inequalities women face in her country. She said Somalian women were dying in childbirth "because nobody cares... [People think] she's dying because she was meant to die. She was not meant to die. She could be safe." She added, "the decision of whether she has treatment must be left to the woman. Often it's a husband or a brother or a father who decides whether she will be taken to the hospital or not." Zainab Salbi of the nonprofit Women for Women International told listeners that oppression of women isn't just a third-world problem, and that one in four American women suffers from domestic violence. "It is really a global issue," she said. She also argued that "we can't actually get into environmental issues or climate change or ending poverty or wars if we don't invest seriously in women."
It's a common statement these days. Nicholas Kristof and Sheryl WuDunn are giving issues affecting women and girls lots of exposure, and arguing that resolving these issues will actually reduce poverty and violence. And panelist (and Goldman Sachs CEO) Lloyd Blankfein's statement that "investing in women is investing in families" is no longer controversial. But does that mean the corporate world really cares about women and girls?