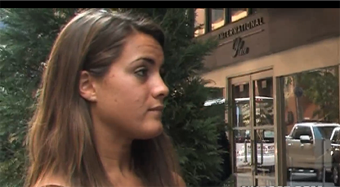 Yesterday, ACORN filed suit against James O'Keefe and Hannah Giles - the pair who posed as pimp and prostitute in a video that damaged the organization's reputation - as well as Andrew Breitbart, on whose website the videos were shown.
In Maryland, recording a conversation requires two-party consent, so ACORN is arguing that the Baltimore video was illegal. Alan Z. Schwartz, ACORN's general counsel, told the New York Times, "the group was not only seeking monetary damages, but also to 'look into the planning and background and funding for the activities that went on by O'Keefe' and have the full, unedited set of videos come to light."
While no one speaking for ACORN has attempted to defend the employees shown advising O'Keefe about tax evasion, prostitution and child smuggling, one assumes that the full set of videos would reveal a lot more ACORN staffers throwing him out, as Katherine Conway Russell did in Philadelphia, and downtown L.A. employees say they did last summer. According to the L.A. Times, "When the woman refused an offer to be taken to a battered women's shelter, the staffers dismissed the incident as a 'joke' and asked the pair to leave." Not realizing that the "joke" was part of a large-scale effort to embarrass ACORN nationally, the L.A. office didn't think to warn anyone else in the organization. Says Nathan Henderson-James, ACORN's online organizer, "It was failure of imagination, and failure of cynicism."