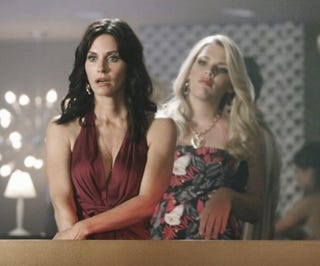 Critics say Courteney Cox is a good actress, but even she can't make the stale, raunchy humor of Cougar Town - which premieres tonight - work. Unless, of course, viewers, like Cox's character, tend to think with their "coochie cooch."
In tonight's premiere, Cox plays Jules, a recently-divorced Florida real estate agent who lives with her teenage son Travis (Dan Byrd). Jules criticizes her recently separated neighbor Grayson (Josh Hopkins) for hooking up with an endless parade of younger women and he bets her that she couldn't get a younger guy to go home with her. After discussing her sex life (or lack thereof) with her best friend, Ellie (Christa Miller), her trashy assistant Laurie (Busy Philipps), and most disturbingly, Travis, she takes her neighbor's advice to "go for it" and brings home a guy who isn't much older than her son.
Cougar Town was created by the same people behind Scrubs, Bill Lawrence and Kevin Biegel, but Cougar Town lacks the charm of their previous effort. Most critics say the problem with the show isn't Courteney Cox's acting, but the fact that she's forced to deliver absurd lines like, "I was 19, I started thinking with my coochie-cooch, and then, bam, I had a kid,'' and is too hot to be a cougar. Reviewers note that even though some women in Hollywood have adopted "cougar" as a positive term, (according to critics) there's still something desperate about a woman dating a younger man. They argue that Courteney Cox just doesn't fit in the role: She's still attractive, and thus bears no resemblance to real women over 40. We've already gone over the five reasons we think Cougar Town looks awful, and below, we take a look at what the pop culture pundits are saying.