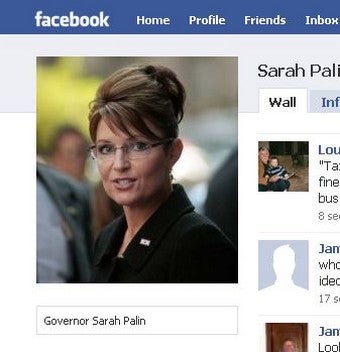 Since her resignation, Sarah Palin hasn't been talking to the press. Instead, she's using Facebook to get her message out without "filtering." And her transformation from governor to Internet celebrity looks pretty successful so far.
Politico's Andy Barr says,
Since resigning her post as governor of Alaska, Sarah Palin has essentially gone dark, making almost no public appearances and successfully avoiding the media outlets that are clamoring to talk to her.

But that doesn't mean Palin has been quiet.
Nope, she's been Facebooking — successfully enough that she added hundreds of thousands of followers after her resignation. And that a fan recently bid $63,500, plus travel costs, just to have dinner with her. And that she started the summer's "death panel" meme — which itself was successful enough that Americans United For Change took out an ad against it, on Facebook no less.