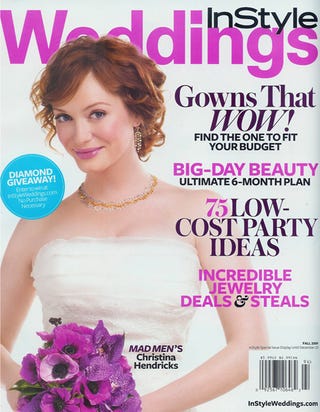 Mad Men's Christina Hendricks is on the cover of InStyle Weddings, and though she wants her upcoming wedding to be "rustic and intimate," the mag insists she'll be "going for curve-hugging fabrics and retro details even on her wedding day."
Though it may be true that Hendricks' "red hair and curvy figure are as integral to the stylish '60s-based drama as bullet bras and scotch," we didn't need a reminder that she, "does not simply walk across a room; she sashays. Her hips pivot and sway while the rest of her body comes along for the ride." It would have been nice to see Hendricks portrayed as just a beautiful woman frolicking in a wedding gown, rather than dwelling on her body shape as if she's the only woman with boobs and hips to ever get married.
Could the media's fixation on Hendricks' body be why she's reportedly on a diet? "She already looks amazing, but you know, before you get married you want to look the absolute best. I don't know what she's doing," co-star January Jones told People last night, adding, "I think she looks beautiful. Her body is amazing... My only advice is to not go too far, because if she loses her curves it will be a very sad day." So true! And when Betty Draper is telling you not to watch your figure, you'd better listen.
We didn't get to see Joan's wedding on Mad Men, which may be for the best, since knowing she was marrying a rapist would have marred our enjoyment of the ceremony.
In real life, Hendricks is marrying the delightful Geoffrey Arend, who appeared in 500 Days of Summer (and voiced Charles "Upchuck" Ruttheimer III on Daria). They met through a mutual friend, Mad Men's Vincent Kartheiser. Let's hope Hendricks doesn't fall victim to "The Curse of the InStyle Wedding" like so many previous cover subjects.