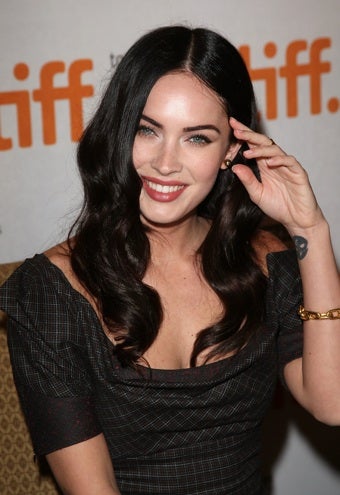 You guys? I'm frightened. Over the past few days, thanks to a barrage of interviews leading up to the premiere of her film, Jennifer's Body, I'm actually starting to like Megan Fox quite a bit. I know. I know!
Now, listen. People have often jumped in whenever I post anything remotely Megan Fox related to write a comment like, "Oh, so everyone hates Megan Fox now?" or "Why does Jezebel hate Megan Fox so much?" I don't think that's really a fair assessment of my personal opinion of Fox—I don't hate her, as I don't even know her—but I do admittedly find myself annoyed at the role she plays; the sex kitten who drops little quotes about how she's so crazy and sexy and cool or whatever while SexyFacing all over the red carpet. But as far as Megan Fox, Person goes, lately I've found myself laughing with her rather than at her, much to the chagrin of some of my friends, who feel she should be banished to SexyFace Island forevermore.
So why DO people hate Megan Fox so much? I suppose most of it comes from her interviews, wherein she says basically whatever the hell she's thinking, which often leads to scandalous headlines soon after. In several of these interviews, she intimated that women hated her because she came across as confident, and women found that threatening. Many of us, myself included, read those statements as "Whateva, you're just jealous, stupid bitches!"
But in retrospect I think what Fox, who often admits to having fairly shitty self-esteem, was saying has a bit of truth to it. Women don't hate Megan Fox because she comes across as confident; they hate the Megan Fox Archetype, because, in a way, it validates all of the high school notions of what sexiness is: porn-star poses, slow motion boob shots, and references to lesbianism and bisexuality as kinks instead of sexual orientation. What Fox is marketed to represent is exactly what the "bad girls" who came before her were marketed to represent: a "naughty," slightly crazy (as of course, no "sane" woman would ever say such scandalous things) woman who uses her sexuality to get what she wants. And for many women, the idea that we need to put on our best SexyFace and be a "man-eater" to feel empowered or sexual is an irritating one. She is the personification of the Cosmo brand of sex, and that is why women find her so annoying.
However, I don't think Fox is that person, and she admits it; "I think I understand why actors go insane, because you're merchandised, you're a product that gets sold," she says, "So the media has to brand you, to label you something. The lines between reality and fantasy get blurred and you can lose yourself in that." When Tracie compiled a list of Fox's most insane statements earlier this summer, one could see a pattern emerging: she'd be quoted saying something that sounded a bit shocking or offensive, and then quoted soon after, clarifying her remarks or noting that what she said was taken out of context. It's almost as if she's trying to balance being Megan Fox: International Sex Symbol and Megan Fox: Human Being, and her quotes represent a weird mix of the two.