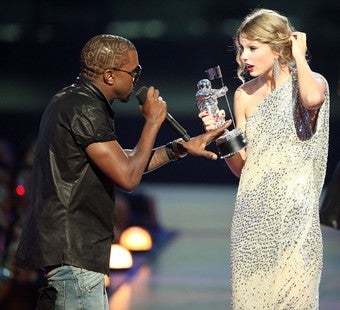 CNN's Ruben Navarrette Jr. says Joe Wilson, Kanye West, and Serena Williams are examples of "a rise in self-centeredness." But maybe the real problem is our desire to lump totally different types of bad behavior into an epidemic.
Navarrette writes,


Among the self-centered: Congressman Joe Wilson, rapper Kanye West and tennis star Serena Williams. But this phenomenon isn't limited to celebrities and previously anonymous backbenchers in Congress basking in their 15 minutes.

There are many people out there, in all walks of life, who think they're more significant than they really are. Plagued with an exaggerated sense of self-importance, they feel entitled to do whatever they want, whenever they want to do it no matter whom it hurts.
Yes, the culprit behind Wilson's "You lie!" outburst, West's Taylor Swift dis and Williams's U.S. Open threats is that now-so-broad-as-to-be-meaningless diagnosis: narcissism. See, kids today are so full of "cheap self-esteem," according to Navarrette, that they think they can just yell at the President, disrupt the Video Music Awards, and become a tennis star and threaten a lineperson. Of course, Joe Wilson was born in 1947, well before the kids Navarrette creepily says "have been the "most wanted" in American history" because of birth control and legal abortion (if only we had more unintended pregnancies, maybe those kids wouldn't feel so damn special). But that doesn't stop Navarrette from alleging that the bad behavior of Wilson, West, and Williams — plus Mark Sanford and Chris Brown! — "comes down to just one thing: bad parenting."