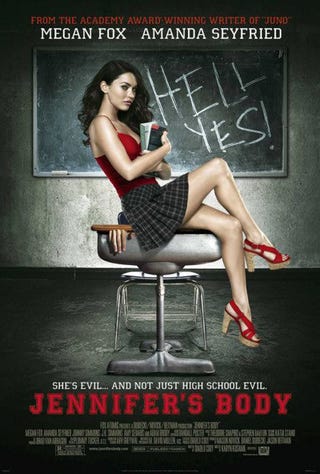 Reviewers are divided on whether Jennifer's Body is a clever satire of friendships between teen girls or like a "thing a cat might bury in a litter box and still keep building the covering because the stench can't be smothered."
Jennifer's Body, which opens today, is a comedic horror film about Jennifer Check (Megan Fox), the meanest, prettiest, most popular girl in Devil's Kettle, Minnesota, and Anita "Needy" Lesnicki (Amanda Seyfried), her smart, sensible, and mousy best friend since childhood. Jennifer, who has always had a somewhat-abusive relationship with Needy, drags her to local roadhouse to see an obnoxious emo band called Low Shoulder. When a freak fire destroys the bar Jennifer and Needy manage to escape and the band's lead singer (Adam Brody) offers Jennifer a ride home. Needy never sees Jennifer alive again, as she's transformed into a succubus, a form of zombie/vampire, when the band's satanic virgin sacrifice goes awry. Jennifer returns to feast on innocent high school boys and Needy has to defend their male classmates, including her boyfriend Chip (Johnny Simmons).
Earlier, we presented a few reasons to love Jennifer's Body, but critics couldn't reach a consensus on anything about the film. While some saw it as a smart and funny commentary on the angst surrounding being a teen girl and the complicated nature of female friendships, others singled out the same points to argue that the film is a "spectacular disaster." There aren't as many Juno-esque quips like "honest to blog" in Diablo Cody's screenplay, which may be good or bad depending on your opinion of Diablo Cody. Some said Megan Fox's acting was horrible, but others found her bland affect appropriate for a demonic mean girl. Reviewers expecting a straight horror movie were disappointed by the film's lack of gore, but other reviews said the film doesn't really fit into either the horror or comedy genres. Many critics described the film as a feminist take on the horror movie, but another critic praised it for refusing "to be read as a feminist revenge story." Below, we take a look at what reviewers are saying about the film, but as it deals with several topics it seems no one can agree on, including Diablo Cody, Megan Fox, feminism, and the difficulties of being a young woman, you may have to judge Jennifer's Body for yourself.