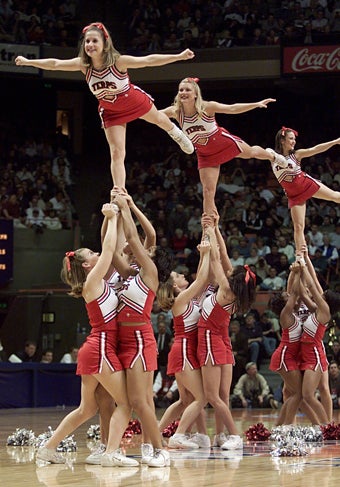 Many schools are considering whether rules should be put in place to make cheerleading safer, as it's responsible for many serious injuries among young women. But the sport's pom-pon shaking origins may be making it even more dangerous.
Today The Wall Street Journal reports that many institutions are reconsidering the point of cheerleading since it's original goal of cheering the football team to victory in the late 1800s has evolved into performing difficult stunts in recent decades. Many are concerned by recent reports on the dangerous of cheerleading:
Cheerleading accounts for 65% of all female catastrophic injuries in high school and college, according to the University of North Carolina's National Center for Catastrophic Sport Injury Research. The Consumer Product Safety Commission says the number of injuries from cheerleading accidents has more than quadrupled in 25 years. Another report put the number of cheerleader emergency room visits in 2007 at 26,786.
It's hard to put these numbers into perspective, since it's unclear how many cheerleaders there are. There are an estimated 400,000 public high school cheerleaders, but there are an unknown number of private teams, and the National Collegiate Athletic Association doesn't track the number of college participants since it's not considered a sport. According to The Wall Street Journal, the consensus estimate is that there are about 4 million cheerleaders in America, which puts the sport's injury rate on par with women's soccer. Cheerleading may only seem more dangerous than other sports because they practice year round and cheerleaders may be taken to the E.R. more than in sports with designated medical staffs.
The American Association of Cheerleading Coaches & Administrators issues safety guidelines for high school and college cheerleaders, and has banned several particularly dangerous stunts in recent years. For the 2008-2009 school year the association banned certain twists on basketball courts without a mat, Reuters reports. And in 2006 more restrictions were put on stunts involving pyramids after a Southern Illinois University cheerleader fell from a 15-person pyramid, cracking her vertebra and getting a concussion, according to USA Today.
The Wisconsin Supreme Court ruled that cheerleading is a contact sport in January (preventing injured cheerleaders from suing their schools and teammates), but part of the problem may be that too many people don't consider it a sport at all. Jeff Webb, chief executive Varsity Brands, which makes cheerleading uniforms and runs camps, says that compared to cheerleaders who performs stunts, those seen at NFL games are "a joke." But many seem to prefer the old-fashioned kind of cheerleader, like officials at the University Connecticut, which replaced the school's cheerleading team with a less-athletic "Spirit Squad" last month. John Saddlemire, the university's vice president for student affairs explained, "The emphasis on stunting had detracted from the major purpose," which he says should be on "fan interaction and truly on cheering and cheerleading."