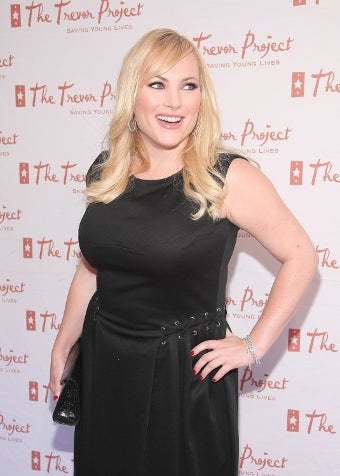 As a charter member of the "Flaming Liberals with a Soft Spot for Meghan McCain" club, I'm always curious about what she's saying — and whom she's irritating with it — on a given day. Let's take a look!
Over at the L.A. Times, James Rainey is asking himself — apropos of McCain's media ubiquity, which one safely assumes is based less on talent and expertise than on her surname — "Shouldn't I be disgusted? Why can't I get more disgusted?" Dude, I have asked myself that more than once. And yet I'm not, for the same reasons Rainey lists, which boil down to this: "she has tried to do some good, and tell at least a few small truths, on her initial orbit through the media firmament." Yes. Also, telling off the likes of Ann Coulter and Laura Ingraham never diminishes my esteem for a person, I can tell you that much.
And as Rainey points out, we should be grateful for McCain's name recognition because it gives a platform to the sort of Republican who would otherwise be crowded out of the spotlight by Teabaggers, Birthers, Dittoheads and sundry other ignorant fools. Better still, she has no patience for them: "Giddy girl-gab notwithstanding, McCain is one of the few voices in the Republican Party to speak out against the extremists who lately have been spinning out dark conspiracy theories about the fate of the nation. She has called for a more civil public discourse." As the media insists that Americans are more polarized than ever, trotting out fringe nutcases as representatives of mainstream opinion, McCain is there acting as... well, not exactly a bridge between the two camps, but maybe a butterfly Band-Aid on a gaping wound.
And the way she does that is instructive: Her bipartisan appeal doesn't come from wishywashy triangulation, but from expressing strong opinions that don't follow any particular party line. She's for both gay marriage and gun rights. She was educated at an ivy league school — in New York City, no less — yet came out of there in favor of small government and a big military, suggesting that the supposed brainwashing going on on liberal, elitist east-coast campuses these days may not be as effective (or, you know, existent) as some fear. Everyone in politics seems to believe that the way to bridge the divide between right and left is to avoid giving either side anything to reject — which essentially means refusing to take a firm stand on anything, thereby coming off as spineless and fake to both sides. Meghan McCain comes off as neither; the fact that she doesn't hesitate to choose a position on divisive issues, regardless of whom she ends up aligned with on any given one, makes her seem like — what's this? — a reasonable person who thinks things through and comes to her own conclusions. And that's something anyone who's not a fringe nutcase can respect, regardless of how closely our views match hers.
That's not to say I'd vote for her, if she ran for anything other than Self-Identified Republican I Find Most Tolerable. Nor is it to say, even, that she's qualified to opine on politics half as much as she's asked to; she's awfully young and, as a recent showdown with Paul Begala on Bill Maher's show demonstrated (read Rainey for the nutshell), hasn't yet educated herself enough to mitigate that. But then, a lot of the people talking publicly about politics — myself included — are scarcely qualified, and she's far less cringeworthy than many of the most vocal.