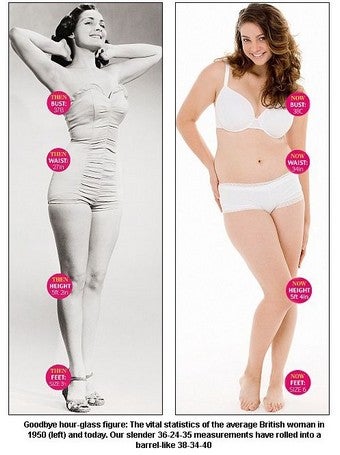 According to the Daily Mail, women's waists — and feet — have gotten significantly bigger since the 1950s. (Cue regular joke comments on 50's sizing.) So why are we so pleased with ourselves?
According to a study of British women's measurements interpreted with great nuance and restraint by the Daily Mail's Victoria Lambert, women are bigger in almost every dimension than they were the last time such a study was conducted, in 1951. With measurements of 37-27-39, the average British woman in 1951 "was the classic hour-glass, not far off Hollywood standards." But now "our hour-glass has rolled into a barrel-like 38-34-40." Says Lambert, "our vital statistics don't just carry implications for how we look - they are crucial to our health."
She goes on to write pretty much the obesity-panic piece you might expect. Despite the fact that average BMI has actually gone down in Britain over the past 60 years, and is still in the healthy range, British ladies still need to worry about those "vital statistics" because their waists are now unhealthily large. Even an increase in foot size is apparently cause for concern: "It's definitely a bad thing if the reason is weight related because it can lead to increased pressure exerted through the foot and lower limbs and back, causing additional wear and tear on joints and soft tissues such as ligaments." And of course, men don't make passes at girls who look like barrels — British hips haven't kept pace with waists, and "wide hips have been traditionally seen as attractive to men because they denote fertility."
British women's life expectancy has risen by 10 years since the 50s, but Lambert's message is clear: the average female body is unhealthy, and unattractive. By all rights, it seems, women should be filled with self-loathing. But at least according to her fellow Daily Mail writer Lucy Taylor, women today are totally full of themselves! Taylor uses a painfully oft-cited US study on narcissism as a jumping-off point to make some questionable claims about women and their egos. Did you know that narcissism has grown by 67% in the last 20 years, "mainly among women?" Or that a full 10% of the population now "suffers from narcissism as a full-blown personality disorder?" Apparently all this self-regard is bad for women, because we actually kind of suck, and will never get a man if we don't acknowledge it.