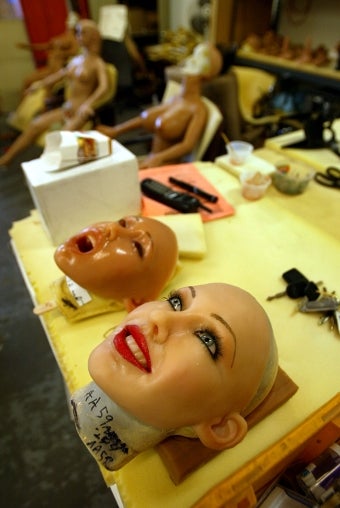 A German company called First Androids [NSFW] has created a sex doll that breathes and has a pulse. It's just like a real woman, only with no brain or corresponding ability to reject douchebags.
In the fall issue of futurist magazine H+, Kristi Scott tells us (on page 14) that "Andy" the sex droid (geddit?) "can hold multiple sex positions, be ordered to simulate breathing, perform oral sex acts, have a pulse, be equipped with a g-spot that responds to orgasm, and much, much more." Another First Androids doll, says Scott, "has the most realistic fake areolas I have ever seen, and I've seen my fair share." Hooray for technology!
Back when Real Dolls were the freakishly realistic sex toy of the moment, I heard a lot of people make the argument that there's no harm in helping lonely, awkward men have someone — something — to curl up with at night. (And fuck. And sponge-bathe. And repair, when their nipple paint wears off.) Megan Laslocky, writing in Salon, said, "[Real Dolls founder Matt] McMullen believes that, for the most part, his dolls are therapeutic transitional objects for men" — just something to get them through a dry spell, before they resume human dating. Laslocky herself, having immersed herself in the world of sex doll enthusiasts, wasn't too concerned, either: "By the end of my reporting... I just saw the men as pathetic and the conversations so packed with false bravado as to be ludicrous." But then she explains how that false bravado is expressed. In an online chatroom, she found "the men were bragging about their success getting 'pussy' using strategies from the likes of Seduce and Conquer and Speed Seduction" — i.e., the patently misogynistic training in manipulation and aggression marketed to lovelorn "nice guys" like George Sodini.