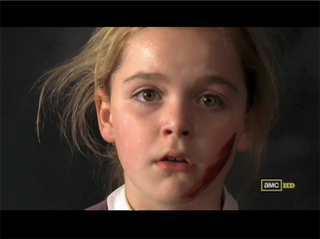 On last night's Mad Men, little Sally Draper - albeit briefly - got in touch with her inner Lord of the Flies.


There will be blood! In fact, the increasingly unhinged grammar-schooler, we quickly learn, has taken her acting out to another level: assaulting a fellow pupil, Becky Pearson - "Sally told me she's a bruiser," is how Betty describes this female version of Golding's "Piggy" character - and shoving her head into the faucet of a public water fountain during gym class. This scene, of course, sees the return of Sally's flower-childish schoolteacher, Miss Farrell - Suzanne Farrell, for those familiar with dance history - who has called Don and Betty into her classroom to inform them of the situation, and to make clear to audiences (as if we hadn't already noticed) that every adult in Sally's life besides her parents seems to actually pay attention to her. Betty for one, is too busy hiding from reality while simultaneously regressing to a childlike state: The soon-to-be mother who needs to be mothered? Sure, but I, for one, am beginning to tire of her mild hysterics.


Back at the office, the resident British bean counter, Layne Price is on an alliterative, cost-cutting tear, much to Don's chagrin. I loved how he arrived late... and left early.