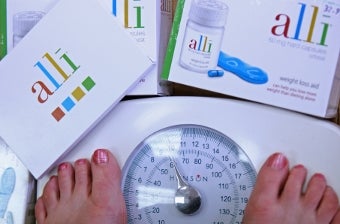 Newsweek, currently hosting a series called "The Fat Wars," is featuring dueling op-eds today, one arguing that fatties need to put down the forks, the other that obesity is genetic. Neither one gets it quite right.
If you've ever read a word I've written, you've already guessed that I come down on the side of the second argument. Which is basically this, in the words of Jeffrey Friedman, who wrote the op-ed:
The heritability of obesity — a measure of how much obesity is due to genes versus other factors — is about the same as the heritability of height. It's even greater than that for many conditions that people accept as having a genetic basis, including heart disease, breast cancer, and schizophrenia. As nutrition has improved over the past 200 years, Americans have gotten much taller on average, but it is still the genes that determine who is tall or short today. The same is true for weight. Although our high-calorie, sedentary lifestyle contributes to the approximately 10-pound average weight gain of Americans compared to the recent past, some people are more severely affected by this lifestyle than others. That's because they have inherited genes that increase their predisposition for accumulating body fat. Our modern lifestyle is thus a necessary, but not a sufficient, condition for the high prevalence of obesity in our population.
But Friedman had already pissed me off before he even got to that. In an apparent effort to prove that he's a Serious Person and not just some delusional fatass with an axe to grind (hi!), he acknowledges that obesity is a risk factor for a bunch of diseases, claiming it has "consequences that include diabetes, heart disease, and cancer, and that cause nearly 300,000 deaths in the United States each year."
Y'ALL, THE 300,000 DEATHS THING WAS DEBUNKED IN 2005. By the CDC, not delusional fatties with axes to grind. Same folks who came up with the original stat, in fact. They just fucked up the first time:
According to the [second] study, obesity and extreme obesity cause about 112,000 deaths per year, but being overweight was found to prevent about 86,000 deaths annually. Based on those figures, the net U.S. death toll from excess weight is 26,000 per year. By contrast, researchers found that being underweight results in 34,000 deaths per year.
Emphasis added.
Seeing that error — four years after that crucial revision came out — automatically makes me think I can't take the person talking seriously. Which sucks, because in this particular debate, Friedman is, generally speaking, the one dealing in reality.
Ken Thorpe and Christine Ferguson, on the other hand, get it wrong from the headline: "We Have the Power to Change Our Weight" (And no, they probably didn't write the headline, but they wrote the op-ed that made that a logical summary.) Sure, most of us have the power to change our weight, temporarily. I was a champion dieter for a while there, losing 65 lbs. the first time I got serious about it, and 45 lbs. the second time. Haters will go to their graves believing that's because I gave up, both times, and started mainlining powdered sugar delivered to me via an elaborate pulley system constructed so I'd never have to leave the couch, but those who have even a passing interest in facts might consider looking at the research on long-term weight loss. Such as the 2007 UCLA study (PDF), in which researchers reviewed 31 earlier studies and concluded that on the whole:
[D]ieters were not able to maintain their weight losses in the long term, and there was not consistent evidence that the diets resulted in significant improvements in their health. In the few cases in which health benefits were shown, it could not be demonstrated that they resulted from dieting, rather than exercise, medication use, or other lifestyle changes. It appears that dieters who manage to sustain a weight loss are the rare exception, rather than the rule. Dieters who gain back more weight than they lost may very well be the norm, rather than an unlucky minority."
The part about not being able to identify which variables actually produced the (few demonstrated) health benefits is crucial. Thorpe and Ferguson write, "We know that as little as a 5 to 10 percent weight loss can significantly reduce risk factors for chronic disease, including lower blood-glucose levels, lower blood pressure, and reduced cholesterol levels," but they don't question how those studies proved it was the weight loss itself, as opposed to the lifestyle interventions that elicited it. In fact, other research suggests that a Health at Every Size approach — focusing on intuitive eating, exercise and (wonder of wonders) self-acceptance, all without regard to weight loss — delivers better health outcomes than dieting. No one disputes that a steady diet of junk food and a sedentary lifestyle are bad for your health. But A) Many fat people can and do eat balanced diets and exercise just as much as thin people without losing weight — that's where the whole genetic thing comes in — and B) plenty of thin people suffer from health issues related to lifestyle choices, but the default assumption is that they're "taking care of themselves" because they don't happen to have fat genes. Eating a balanced diet and exercising can be beneficial for all of us, but they will not cause permanent weight loss in most of us — and there's no real proof that we'd be markedly better off if they did. (Even if being thinner is theoretically advantageous — and again, "overweight" people win the longevity game — we must keep in mind that a fat person who's lost weight is not the same thing as a person who's always been thin.)
Friedman gets this mostly right:
There is no evidence that obese individuals need to "normalize" their weight to reap health benefits. In fact, it is not even clear whether there are enduring health benefits to weight loss among obese individuals who do not suffer from diabetes, heart disease, hypertension, or liver disease.
But then, once again, he blows it, basically reiterating Thorpe and Ferguson's point about losing 5-10% of your weight:
What is known is that the obese who do suffer from these conditions receive a disproportionately large benefit from even modest weight loss, which together with exercise and a heart-healthy diet can go a long way toward improving health.
Apart from what I've already said about the variables involved in weight loss and the fact that permanent weight loss is a pipe dream for all but a few statistical outliers, here's the obvious question about the "just lose 5-10%" thing: What happens when I do that and am still fat? Losing 10% of my weight (+/- 19 lbs.*) would leave me squarely in the obese category, not improving their statistics one little bit — so even if my health improved, would anyone actually quit bitching about the "obesity crisis"? Oh, but wait — enough people are on the cusp of BMI categories that if we all lost 5-10% of our weight, we'd see a dramatic drop in "obesity" and "overweight" population-wide, at which point we could all congratulate ourselves on no longer being a nation of embarrassing fatties who are going to die younger than our parents, even though individual losses would generally be quite small. The important thing is, on paper, that would look fantastic. At least until everyone gained it back.
Thorpe and Ferguson argue for many of the public health interventions I addressed in an inexplicably controversial post last week, and as always, I'm in favor of several of them, e.g., "lowering copays on preventive care... reinstating physical education and requiring school lunches to meet nutritional standards... ensuring that all Americans have access to a place to be physically active and purchase healthy foods." What I'm not in favor of are undefined "programs to help overweight Americans" (unless they mean programs to help us overcome the ill effects of relentless fat-hatred, see above about diets not working) and "tax credits to employers that offer wellness benefits and encourage health inside and outside of the workplace" — which sound fairly unobjectionable until you consider that this is what leads to demeaning "Biggest Loser" competitions at the office, employers badgering their workers to join specific commercial weight loss programs, and hysteria about a plate of cupcakes in the break room. If we're talking about tax credits for offering employees free or discounted gym memberships — and then leaving them the hell alone to work out as they please, or not — then great, have at it. But that's never all we're talking about. We're talking about diet culture invading the workplace even more than it already has, and a whole new layer of shame for fat people who aren't interested in joining Weight Watchers — probably because they've already been on it multiple times, and gained back everything they lost.