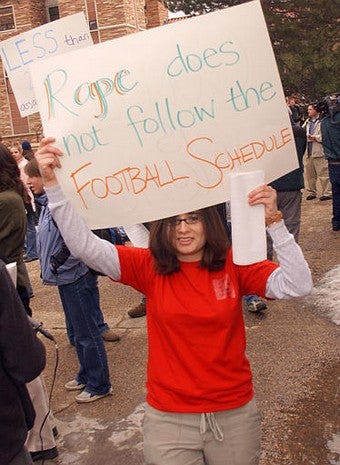 In an editorial in The American Prospect, Jaclyn Friedman decries colleges' "ineffective pageantry on rape prevention." Instead of teaching female students how to avoid getting raped, she says we should be teaching men how to avoid being rapists.
Friedman writes,
At about this time every year, adult anxiety about sexual assault reaches a tipping point and gives way to an avalanche of advice to young women from campuses, commentators, and parents alike: Don't hook up! Don't dress provocatively! Watch your drink! Actually, don't drink at all! Always stay with a friend! Don't stay out too late! Don't walk home alone! Etcetera, etcetera, ad nauseam.

And every year, it fails to work. A 2007 Department of Justice-funded trend analysis of rape studies over time revealed that rates of rape haven't declined in the past 15 years — in fact, they may be increasing.
Even though I know that, for my own safety, I need to be aware of the potential threat of assault, it frustrates me that managing the threat is so often treated as women's responsibility. Though I found The Gift of Fear's tips on avoiding assault and stalking useful, I didn't like the implication that it was women's job to keep themselves safe from the inevitable threat of men. Many take the pragmatic view that rape is endemic and women should just accept the curtailment in their lives that's necessary for self-defense. But the older I get, the more jealous I am of men's freedom to walk around by themselves at night, and I think I can protect myself while also acknowledging that I shouldn't have to.