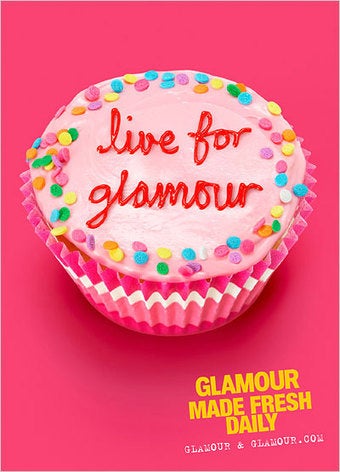 Glamour is launching a sweet, uber-girly advertising campaign that paints its readers as nice, all-American girls. And in another strange move, the mag is holding a retro-sounding "Search for America's Sweetheart" that's also being made into a reality show.
The New York Times reports that though the magazine's circulation numbers are up slightly over the year, its single-copy sales are declining and ad pages were down 20 percent. To draw in new readers and particularly advertisers, the new "Live for Glamour" ads, which feature cupcakes, balloons, yo-yos, American flags, lollipops and margaritas, will be featured on taxis, billboards, and projected onto New York City stores tomorrow to coincide with the start of Fashion Week. Though ads will run in mainstream magazines, the campaign is more focused on refreshing advertisers' idea of the type of woman who reads Glamour, so print ads will run in industry publications like Women's Wear Daily, Drug Store News and Cosmetic World. The magazine will also ship actual cupcakes that say "Live for Glamour" to the offices of advertising clients and hand out cupcakes under the tents during fashion week.
Glamour's image of its readers is surprising, as the cupcake-baking, All-American imagery seem like something Sterling Cooper executives would have come up with during a product-placement heavy scene on Mad Men. Other ads in the campaign include cliche phrases like "she'll steal your shoes, but never your boyfriend," and, "she commits to her political party, but never just one lipstick." Considering Glamour is aimed at adult women, the pink, perky ads are surprisingly infantilizing. They emphasize that while the magazine's readers aren't particularly mature, like teenagers, they have a disposable income they're ready to spend on shoes, makeup, or anything else fashion and beauty brands may want to push.
"Clearly it's exuberantly cheerful, aggressively cheerful," says Cindi Leive, editor-in-chief of Glamour. "This says very clearly that this is not a magazine that's trying to be Vogue." In other words, rather than competing with more upscale fashion magazines for the high-end brands aimed at more sophisticated readers, Glamour readers are just "nice girls" who will buy more middle of the road products. "We're Jennifer Aniston, but we may never be Angelina," adds Bill Wackermann, the magazine's senior vice president and publishing director.
In conjunction with the new ads, the magazine will be running a "Search for America's Sweetheart" contest, with the winner appearing on the cover of Glamour in 2010. According to Leive, the contest is "not about being the blonde, blue-eyed, superdeluxe picture of perfection," but a "real woman". We understand that Leive means the winner won't necessarily fit the traditional image of "America's sweetheart," as we discussed earlier today, but then why use the outdated word "sweetheart" at all?