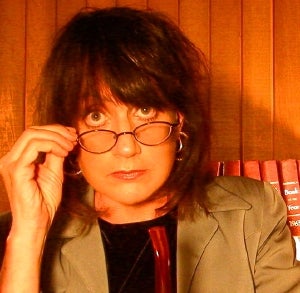 Comedian and writer Merrill Markoe was one of the creators of the David Letterman Show. Now she writes books about talking dogs and makes funny short videos. She spoke with Doree Shafrir about her career, and the strangeness of Hollywood.
How did you come up with Stupid Pet Tricks?
Oh, jeez. Well, we're talking about the 1300s. People were rioting in the streets and there was blood and the black plague and stuff. We were hanging out and trying to come up with things because we were gonna do a morning show. We actually came up with it on Dave's morning show, which was a live, daily thing. It took place at like 9 o'clock in the morning live in New York. We had to come up with stuff that you could do repeatedly because, as it was explained to me by Jimmy Breslin, who we met sort of around the same time, it's kind of the way it is with newspapers; you have to keep refilling things or else you're facing an infinity of blanks every single day all of which have to be created from scratch. So we were trying to find refillable categories.
When I was in college I had some friends who had a Great Dane, and we were broke and so forth, and when we would get together we would drink beer and we would put socks on the dog. And that would be hours and hours of laughter. Seems a little sad now. But it occurred to me that pretty much everybody I knew had at least one thing like that that they do with their dogs or other animals. So we gave that a try; we just ran an ad. And very briefly Chris Elliot was the doofus who had to go around and gather the data.
Oh, really?
Yeah, because he was a 19-year-old who was just giving tours at 30 Rock at the time. We were his first job.
He was Kenneth the Page.
He was, basically. He was always hilarious. You know, he was always just smart and funny the second you laid eyes on him. So in that sense he wasn't exactly Kenneth the Page. But yeah, he was in charge of Stupid Pet Tricks until he could weasel his way out of it.
And you had met Letterman at The Comedy Store.
Yeah. We were both doing standup. The way I always think of it is he was sort of a graduating senior and I was kind of an incoming freshman. I was green and he was one of the two or three big men on campus. And the big man on campus at that time was, or a pretty big man on campus now too, was Jay Leno. It was also where I met Jay's wife, who's become a good friend of mine, Mavis Leno. She was around with him at that same time. And Richard Lewis. And there were these certain people who were the big guys and Dave was one of them.
The way you sort of describe it in your bio is that you almost accidentally started writing comedy. Or you had been writing it in your apartment and then it just kind of got picked up.
I think that people pretty much play the hand they're dealt. And if you're born the prettiest girl on the block, you end up finding that that's a tool you can use. And at some point if you've got the ability to sling wit, you just start doing that early on and you get a response and you just stick with it. It's just an adjustment to tackling life that you sort of make very early. I mean, I can remember making jokes in first or second grade. So at some point I was doing that even when I was an art teacher.
I actually didn't intend to be a writer, because I had a mother who meant to be a writer and she was sort of a frustrated, serious person. So she was kind of pushing me in that direction and I never considered it for even one second and I went into art. I was teaching art and then somehow I switched over and was able to get work as a writer much more quickly than I was able to get another job as an art teacher.
So all the sort of backhanded training from Mom kind of worked I guess, even though I didn't really take any writing in college. But comedy was just sort of the voice I had. I knew how to write comedy more than I could've ever written anything else.
What was it like being a woman writing comedy in the '70s? It seems like it was a very male-dominated world.
It's really way less male now. It's way, way better for women now. And the '70s — actually, I was at the way tail end of the '70s. I'm still friendly with Elayne Boosler, and she and I are in — there's a comedy issue of the L.A. Weekly right now, comedy horror stories. I was reading her story, which was about her initial audition at The Tonight Show.
You know, she was huge at that time. The big issue at the time for women who were doing stand up was that all the precedents in female comedy were very self-deprecating. It was all, "My boobs are so flat. My husband thinks when he looks at me and I take off my clothes, he throws up. Everyone hates me." So she actually just sort of bypassed all that and started doing political humor and sort of observational stuff about people, and so forth, and that was really considered astonishing. Anyway, when I was reading her horror story in the L.A. Weekly, I had forgotten the word they used to use about her at the time – this was the derogatory term and I heard it used repeatedly about her and I'd forgotten completely about it, except for, it used to color the way I saw myself and make me nervous about what I could and couldn't do – they used to call her "threatening." You really don't hear that word used about women doing standup now, but they kept saying, "She's so threatening. She's too threatening." And you think, "Threatening? She's a woman standing on stage telling jokes." But it was such a sort of a delicate dance you were theoretically doing, that it was crazy, the idea that that would be threatening. And she couldn't actually get on The Tonight Show at the time because she was so threatening. Whereas somebody saying, "My boobs are so little that I take off my clothes my husband throws up," weren't threatening.
Right. Because it was sort of safely within the women's realm of comedy.
Well, that was the theoretically figured-out women's realm at the time. It's so much better now. There's a virtual ton of women now doing whatever they damn well please. It's still not as easy for a woman, I don't think, to get launched in the biggest possible way the way that it is a guy, but it's certainly not the same. I remember thinking when I was doing standup back in those days, I kept hearing that word "threatening," and I kept trying to figure out how to defang myself, and what did I need to be to be not threatening and yet… it was a lot of weird calculating going on for people that I don't think is necessary anymore. It's still not so easy to get in front of a group and get laughs. That's another dilemma entirely, but it's not so much about are you threatening. Look at Lisa Lampanelli for crying out loud. "Threatening" isn't really the issue anymore. Did that answer the question?
Yeah, it does. Do you have any sort of war stories about yourself-say, in the writers' room, for example?
I actually never have had any trouble hanging out or getting on with guys that way, I don't think, although I don't think it was a smart thing for me to put work and love together. I think that's a battlefield a lot of people can get killed on, and do. And I would say that was a mistake that I really would try not to make again, although I don't know if you can not make it. When it's there and it's compelling, then there it is.
What I love is funny people, whether it's hanging out with guys or women, if they're really funny, it's like another language you all speak. I'm not the sort who would get offended by, you know like that one woman who was suing the guys at Friends because they were making dick jokes. There's a lot of sex jokes going on in any big group of guys, probably more than a big group of women, but if they're funny at least, you know, to me…
But were they funny dick jokes?
Well that's really what it is. If it's a bunch of funny people making them, then they're funny, and if it's a bunch of people just making dick jokes and they're not very funny, then it's intolerable, then you just wanna just kill yourself. But it would be the case no matter what the topic. I'm mean, I'm not the biggest fan in the world of dick jokes, I'll just go right ahead and say that, but at least if it's really funny guys, then they're funny guys.
I was always working with guys on the Letterman show. A lot of them are still my friends. They were so hilarious and sweet, such really hilarious guys, and also I was in charge.
What's your relationship now with David Letterman?
I sort of don't have one at the moment. I mean, I was on his show a few times and it was a weird experience in all ways, but I haven't spoken to him in years. You know, he's married and has a kid. And I live with someone. I don't have an ongoing relationship [with Letterman]. I'm not the sort who really stays chummy with exes. In fact, that's why I'm not on Facebook. I don't really want everyone I ever met to just go ahead and friend me.
So talk about the inspiration for The Pyscho Ex Game, since we were just talking about exes.