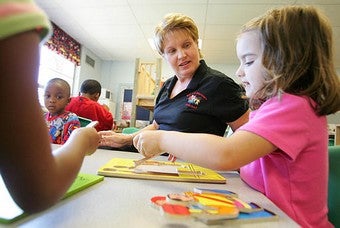 Do preschoolers need therapy? Are babies racist? Two stories this week challenge the notion that kids live in an innocent world, free of the problems and stereotypes that complicate adult life.
Sue Shellenbarger of the Wall Street Journal talks about a rising trend of assigning mental-health workers to preschools. These therapists and consultants can help teachers resolve kids' problems, like tantrums and rough play, before they get out of hand. Shallenberger writes,
The idea of assigning mental-health workers to child-care centers and preschools is jarring; I was skeptical when I first heard the idea. Children so small shouldn't need mental-health help, it seems, and having therapists or counselors working in classrooms seems to risk stigmatizing them with labels, or simply interfering with the innocence of childhood.
But therapists can help preschools reduce their expulsion rates, which are currently three times higher than those in kindergarten through high school. Preschool teachers also say behavior problems are rising, perhaps because preschool is becoming more academic or learning disabilities more prevalent. And if depression can occur in kids as young as three, maybe having therapists on hand isn't such a stretch.