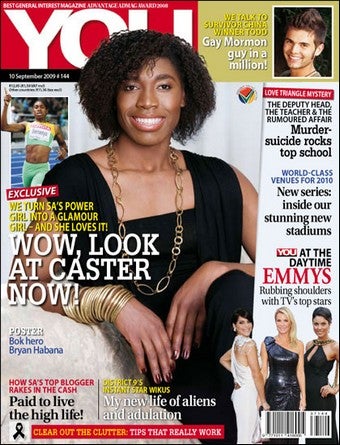 What could make the convoluted saga of Caster Semenya's disputed gender even more public and upsetting? How about a makeover?
Yes, Semenya is now on the cover of South Africa's You magazine, wearing makeup, a dress, and a new hairdo. Four inside pages also show Semenya in a variety of stylish outfits, including leather pants and a sequined top — all of which You says Semenya wanted to buy after the photo shoot. The feature includes an interview, in which Semenya says, "I'd like to dress up more often and wear dresses but I never get the chance," she says. "I'd also like to learn to do my own makeup." She continues,
I've never bought my own clothes – my mum buys them for me. But now that I know what I can look like, I'd like to dress like this more often.
Semenya apparently had to be "persuaded" to let stylists make her over, but enjoyed herself once the shoot got going. I hope she did have a good time, but it's hard not to see the shoot as a calculated move by her managers to sell the public on her "femininity." This is especially sad because up until now, Semenya and her family have been unapologetic about the way she looks and dresses. Her father said that she had always preferred pants, but that she was still a woman — and the idea that she has to put on a dress and lipstick to prove her femaleness to people is pretty depressing.