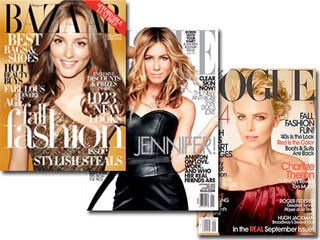 It's that time of year where we tally all the prices in fashion magazines' September issues to determine which one has the most expensive shit. This year, it looks like the recession (sorta) had an effect on ladymags' editorial selections!
Due to general fatigue, this year, we decided that we'd only add up the prices in major high fashion magazine players, meaning: Harper's Bazaar, Elle, and Vogue. The process was tedious, but we uncovered a mystery, learned that jodhpurs are the "it" pant of the season, and discovered other surprising results. Please note that this was not the most scientific of ventures (we didn't call designers for numbers on the various "price upon request" items featured in the magazines) but we did make an easily digestible chart on how the ladymags' selections compared to last year's:


Click on image to enlarge.