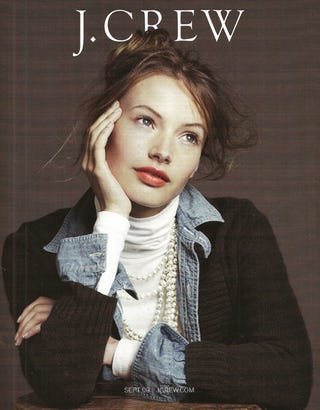 Tucked inside the September J. Crew catalog are a few pages of Crewcuts, the childrens' stuff. Most of the time I don't even like kids! (I think babysat too much.) But these kids are just. So. Damn. Cute.
I don't know what she's singing about, and I don't know what she wants, but I'm honestly just about ready to buy it for her. And maybe she will lend me those socks?
This year's back to school trend: Preppy Annie-meets-Oliver! on the set of Newsies. But pastel. Adjust accordingly.
For crying out loud. The cute is killing me. Can I sue? Can my ovaries sue? Can my empty uterus sue? I've always kind of been the person who was like, oh kids. Those are for poor people and rich people. I'd rather spend my money on vacations to Tahiti and Japanese lessons. But I forgot how utterly adorable they could be. If only it were as easy as dialing J. Crew's 800 number and putting one on your MasterCard.
This young mademoiselle reminds me of Capucine. Remember the little French girl whose fantastical story went viral on video? Popotame for the win.