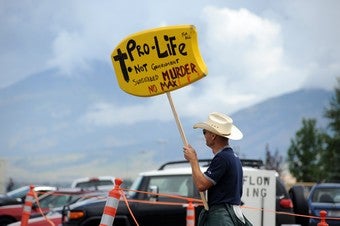 As anti-choice protester Randall Terry travels the South performing gruesome "death panel" reenactments, some pro-life Democrats in Congress say they'll block any healthcare reform bill until all coverage for abortion is removed.
An article by Michael Sherer in Time lays out the status of abortion coverage in the current healthcare reform legislation. Currently, no federal funds can be used for abortion except in the case of rape, incest, or threat to the mother's life. That means Medicaid — and even private health plans offered to government employees — can only cover abortion under these circumstances. Under the new legislation, private insurers who chose to cover abortion would have to do so with funds kept separate from government subsidies. The (now moribund) public option would offer coverage for abortion, but this could only be paid for by members' dues, not by the government. However, there's currently no way for members to opt out of paying for abortion coverage, meaning, according to anti-abortion Representative Bart Stupak (D-Mich.), "You are spreading the cost of the procedure over a public plan."
Of course, since it's getting less and less likely that we'll even get a public option, that part of the abortion-healthcare debate may well be moot. But that might not matter to abortion opponents like the United States Conference of Catholic Bishops, who claim it's an "illusion" that government subsidies can be separated from other funds. In a letter to Congress, Cardinal Justin Rigali wrote, "Funds paid into these plans are fungible, and federal taxpayer funds will subsidize the operating budget and provider networks that expand access to abortion." But anyone who's worked for an organization that takes money from the government, and who has had to, say, separate out all alcohol for every business dinner to make sure the feds don't pay for it, knows that federal funds really aren't that "fungible," and that keeping them separate from other money is sometimes difficult but definitely possible — and often tightly enforced.