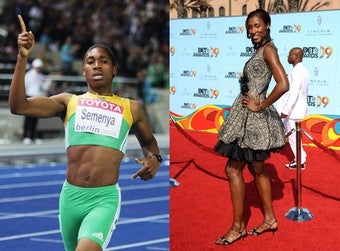 A celebration will greet Caster Semenya and her teammates when they return to South Africa tomorrow — but Semenya's body type is still not celebrated in women's sports.
Semenya and the South African track team will take part in a rally at the airport, followed by a meeting with President Jacob Zuma for Semenya and the two other medalists. A weekend homecoming celebration is reportedly planned for Semenya in her hometown. Her family, her friends, and her government have been supportive of Semenya — the same can't be said for her competitors, or a sports culture that expects women to look a certain way. Runner Elisa Cusma said, "These kind of people should not run with us," and as Laurie and Debbie at Feministe point out, she's not the only one who thinks Semenya is unacceptable in some way. They write,
[W]e like our women at least a little fragile, at least a little vulnerable. Being blue-eyed and blonde makes a big difference too. We encourage women to be fit and strong, but not too fit, or too strong. Go to the gym, preferably at least three times a week, but pick those workouts so they don't give you "ugly muscles." Take up that sport, but don't get too good at it (we don't like our women really competitive, either).
As critics of the IAAF's gender testing have said, Semenya seems to have been flagged for testing solely because she's too good,and because her "ugly muscles" make her "look like a man." Whether or not she is found to have an intersex condition, the judgment sheds a lot of light on what we as a culture want women to look like, even when they are using their bodies for intense physical competition. Laurie and Debbie continue,