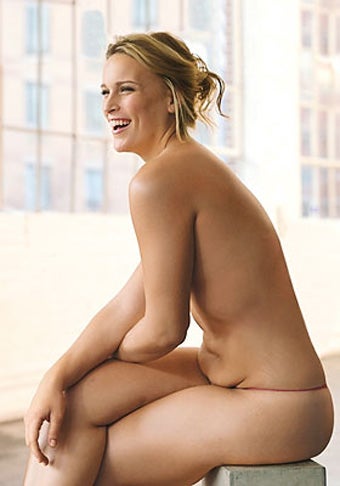 Glamour has apparently been inundated with emails and letters from readers who say they love the "woman on p. 194" of the magazine's September issue, who is pictured in her underwear, proudly showing off her pooch.
Cindi Leive, editor of the magazine, wrote a post on the magazine's website saying that since the day the September issue hit newsstands, letters have been pouring in about one unknown model featured in the body-confidence article "What Everyone But You Sees About Your Body." Leive writes:
The letters blew me away: "the most amazing photograph I've ever seen in any women's magazine," wrote one reader in Pavo, Georgia. From another in Somerset, Massachusetts: "This beautiful woman has a real stomach and did I even see a few stretch marks? This is how my belly looks after giving birth to my two amazing kids! This photo made me want to shout from the rooftops."
The emails were filled with such joy—joy at seeing a woman's body with all the curves and quirks and rolls found in nature. (Raising a question: With all the six-packs out there, do you even know what a normal belly looks like anymore—other than the one you see in the mirror?)
On its own, the picture may not seem that incredible, but after flipping through 193 pages of uniform sample-size models, the image is striking. Rather than thinning her via Photoshop or having her sit in an unnatural pose, the model is shown with a bit of belly hanging over her underwear and slightly-bulging thighs, looking happy and genuinely confident. As Leive says, we've gotten to the point where showing a woman with folds in her skin or a belly that sticks out (who isn't in a "before and after" feature) is a radical move for a women's magazine, even though that's what every woman actually sees in the mirror every day.