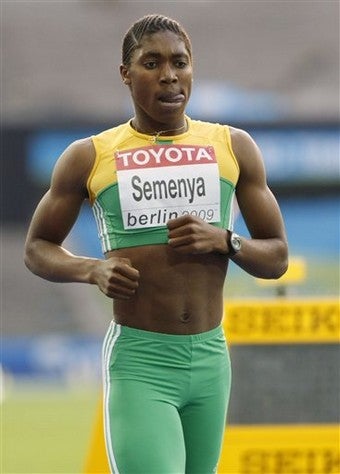 Unfortunately, South African runner Caster Semenya isn't the first exceptional female athlete to have her femaleness questioned. But her coach's comments make her case one of the most upsetting.
The 18-year-old Semenya is slated to run the 800m for South Africa in tonight's World Championships, but, says Australian newspaper The Age, her "physique and powerful style have sparked speculation in recent months that she may not be entirely female." An International Association of Athletics Federations spokesman says, "At this moment in time we do not have any evidence to stop her running," but according to the Daily Mail, gender testing has already begun. Some say she could still be disqualified.
Perhaps even more disturbing than subjecting a runner to medical tests for no other reason than her physical appearance and athletic prowess is her coach Michael Seme's reaction to all this. He says,
We understand that people will ask questions because she looks like a man. It's a natural reaction and it's only human to be curious. People probably have the right to ask such questions if they are in doubt. But I can give you the telephone numbers of her room-mates in Berlin. They have already seen her naked in the showers and she has nothing to hide.
Of course, there's nothing wrong with "looking like a man" — if, for instance, you're transgender. But for a coach to say it of a teenage athlete who has always identified as female is pretty insensitive. He should be protecting her from the media's curiosity, not excusing it. And as far as his "showers" comment goes, even seeing her naked probably won't be enough to satisfy her critics. Says The Science of Sport (via Deadspin),