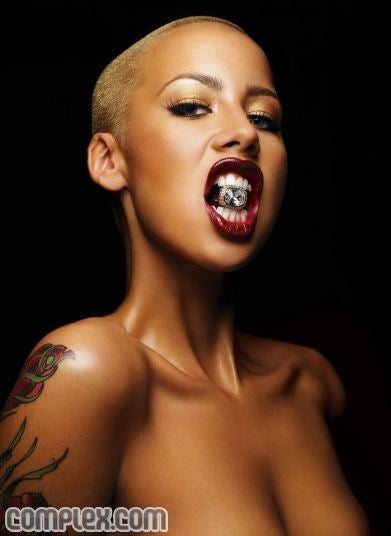 Amber Rose's photo shoot for the latest issue of Complex magazine has some wondering about fashion's ongoing fixation on the idea that black women are animals.
Most of Amber Rose's Complex shoot, which was photographed by Matt Doyle, refers to iconic shots of Grace Jones. The image of Amber with jewelry in her mouth, for example, is a recreation of this picture of Grace eating diamonds, as photographed by Gordon Munro for Interview in the '80s:
There's Amber smoking in a tux…
And Grace smoking in a tux, on the cover of her 1981 album, Nightclubbing.
There's Amber in a cropped grey tee, with boxing hand wraps…
And Grace, on the cover of her '82 single "Pull Up To The Bumper," wearing a cropped grey tee and boxing tape.
There's Amber, her naked body covered in oil, posing with a whip…
And Grace, her naked body covered in oil, with a whip.
Perhaps most offensively, there's Amber in a cage.
And Grace in a cage.


The French artist Jean-Paul Goude shot that last image of Jones; the two were involved in a tempestuous and sometimes violent relationship. The objectification and exoticization of black women isn't incidental to Goude's art: it's the whole point. "Blacks are the premise of my work," the artist told People in 1979, "I have jungle fever."
In case anyone thought that was a joke, Jungle Fever was also the title of Goude's 1982 book. The shot of a caged Jones made the cover.
So it's no surprise that Goude shot Jones surrounded by raw meat, under a sign that reads "DO NOT FEED THE ANIMAL." But why would Complex choose to emulate images, some of which come across as not just dated, but riven with deep and troubling statements about black women as animalistic, primitive, and uncivilized creatures? Latoya Peterson has noted of such pictures that the women are always "looking like they are ready to fly off the page and attack." Claire Sulmers of The Fashion Bomb says of the Complex photos the message is that "these women are so wild they must be caged–they're sultry, snarling sex beasts."
Modeling opportunities for women of color in general are slim; as we know, far too many designers consider diversity on the runway and in their advertising to be entirely optional. The industry's slowness in even inviting black models to the metaphorical table is probably why, thirty years on, Grace Jones remains the most easily identifiable short-haired black model, and therefore a ready subject with which for Complex to associate the close-cropped, bi-racial Amber Rose. (Imagine if Jerry Hall were still considered the only and ultimate blonde model, or Paulina Porizkova were still the touchstone brunette, and white models starting their careers were constantly booked on jobs that recreated exclusively those women's old spreads.)