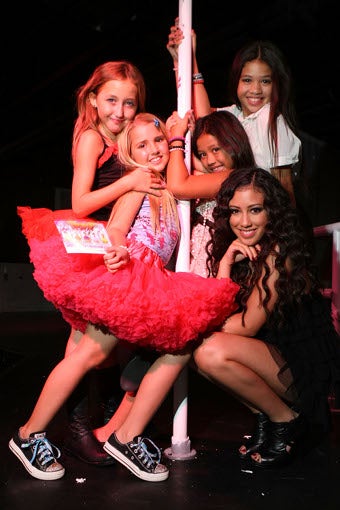 Miley Cyrus' pole-dance is so yesterday. The latest controversy? Her 9-year-old sister's iteration.



Before we get the proverbial knickers in a twist (by the way: how does one manage this?) don't worry: as the video shows, Noah Cyrus's activities backstage before the infamous Teen Choice Awards can be termed a "pole dance" in only the strictest sense: she and some little friends alternately run around it maypole-style, or flop about in a desultory fashion. As a number of viewers have pointed out, most kids her age don't even know what a stripper pole is.
Well, Noah might, if only for the reason that the same evening, her older sister went on to execute a controversial routine on one. Whether a 9-year-old would get the implication or not, she was gonna see it, if she hadn't already (kind of the issue with imitative behavior, after all.) And even if you can dismiss Noah's actions as innocent - and I do - it's rather hard to know why her parents would apparently sign off on a posed shot of Noah and said little friends around said pole, which they then distributed to the media.