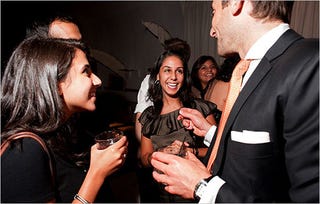 When I arrived last night at Fashion Meets Finance — a meet 'n' greet for fashion worker bees and bankers — a woman from Merill Lynch was being unceremoniously turned away at the door for violating the event's gender code.
"This is a private event for the women of fashion and the men of finance," explained the woman with the clipboard. "And you are a woman who works in finance!" The rejected banker — who, though this should hardly matter, was young, attractive, and wearing a nice cocktail dress such as would have suited the Fashion Meets Finance crowd — stepped away from the velvet rope crestfallen.
I walked right in, even though I had no cocktail dress, and was not even wearing heels, because I am a woman who works in fashion.
The bar was crowded. Then it became more so. When the "tasting hour" designated by the gluten-free vodka sponsor ran out and I asked for a glass of water, the bartender said he could only sell me bottled water for $5. I protested, and he turned to the woman to my right, who had worn a cocktail dress and platform sandals, who desired a vodka cranberry. But while he was filling her glass with ice, he waved his gun over my empty tumbler and pressed 'water.' The noisy, tacky, tiki-themed environs of this particular East Midtown bar motivate one to appreciate even the smallest of mercies.
There's really no reason for me to go to such a thing as Fashion Meets Finance. I don't need to "meet" anyone, and even if I did, I have always specialized in dating men who earn in the multiple thousands of dollars. I'm sure, if the need arose, I would fall for another one of those in a trice. This assortment of Windsor knots and Harvard degrees and clicking high heels is not my crowd. I suppose I wanted to know for sure that Fashion Meets Finance — tagline: "Ladies, you don't need to worry that the cute guy at the bar works in advertising!" — actually exists, because it seems like the kind of thing that is too disappointing, or perhaps too wretched, a statement of human cravenness and of contemporary gender politics to be true. I suppose I was acting in the grand tradition of Jezebels who throw themselves on live New York dating grenades. But mainly, though, I never pass up an opportunity to use a good fake name. My friend who joined me agreed that was the evening's main selling point — she often passes herself off as Ellen Olenska, the population who actually reads Wharton being apparently small and not generally given to standing on street corners with a clipboard and an earpiece, the better to sneer at women with advanced degrees in economics.