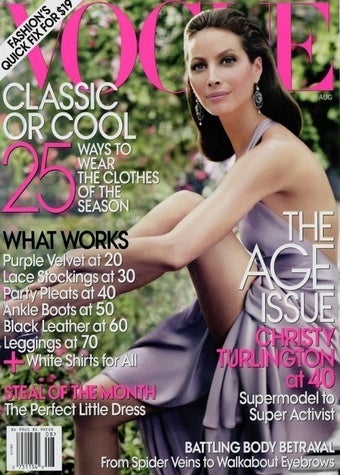 According to the August issue of Vogue, if you can recall the days when Christy Turlington graced the magazine's pages, before Vogue's models emitted an alien Photoshop glow and were forced make marionette arms in every photo, you're officially old.
Vogue's annual Age Issue is plastered with large print affirmations about beauty coming from within, including a strange full-page declaration that includes the following statement:
Style isn't imposed on us by the Establishment it's a daily affirmation of, well, our joie de vivre. We are each a painted butterfly, with a different pattern on our wings. The concept that adornment can—like capoeira-yoga classes or a devotion to esoteric whole grains—engender well-being is especially good news for anyone older than, say, oh, 29. It's never been more true that you are only as old as you feel. ...
The small print tells a different story! A beauty feature about four women who began obsessing about signs of aging in their 20s and 30s concludes with one woman pestering her doctor about age spots only she can see. The doctor asks, "Are you insane?" "No Limits," the issue's big fashion spread, is similarly maddening. It's ostensibly about how "fall's best looks cross generational lines," but there's no attempt made in the following pages to show the mixing of old and new styles, or how anyone over 25 could pull them off.
We've already taken a look back at some of Christy Turlington's work in honor of her appearance on this month's cover, but some comments in the accompanying profile about her younger days in modeling were troubling. First, Christy reveals that by working almost exclusively for Vogue by the time she was 16,