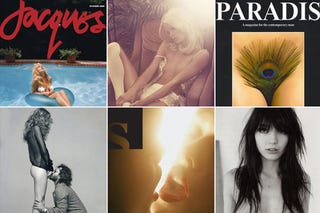 Blogger Hayley Elisabeth Kaufman has a post [link possibly NSFW] on Refinery 29 about fashion magazines that offer eroticism with style. She writes:
With the lines between fashion, eroticism, and porn becoming less and less clear, it seems perfectly on point for a sexy slew of stylized skin mags to arouse new curiosity.
While most mainstream American magazines tend to be rather modest, magazines like French Vogue (see Lara Stone, etc.), Purple Fashion and Dazed & Confused will often print "artsy" nudes.