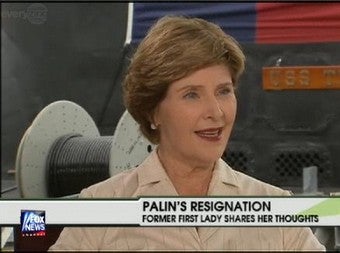 Watching the banality with which Laura Bush recently voiced her support for Sarah Palin inspired our rhetorical analysts to take a break from annotating and help readers translate ordinary English into the language of Laura — and other prominent Repubs.
Of Palin, Laura Bush said,
Well I think that's just something she needed to determine and she did. And, you know, everyone has to respect the decision she made. She, like a whole lot of people, other people that get into politics, find out it's a great big world when you get in the politics and, um, I wish her the very best.
You too can achieve such blandness, and many other fun speech effects, with the many Republican translators below.
Laura Bush
In order to talk like the FFLOTUS (which in Welsh means, "a breakfast dish made with cod"), simply replace every concrete noun with an abstract noun. Then, replace every adjective with something positive, yet vague. Here's an example:
English: The quick brown fox jumps over the lazy dog.
Laura: The terrific wonderful thing jumps over the great idea.
For extra verisimilitude, deliver all statements with a glazed-over, faraway expression, as though staring at a point three feet behind your interlocutor's head.
Sarah Palin
The Sarah Palin translator is a little more complicated. First, add to each sentence a metaphor or simile that is entirely unrelated to the topic at hand. Next, add at least two superfluous prepositions or helping verbs. Finally, include a mention of an Alaskan animal. And obviously drop all the g's. Observe:
English: The quick brown fox jumps over the lazy dog.
Palin: The quick old salmon is doin some jumpin over that lazy grizzly bear over there, like a point guard stealin a snowmachine from a Cheechako.
In Grahamese, all sentences begin with a disingenuous expression of support, and end with a condescending question. To whit: