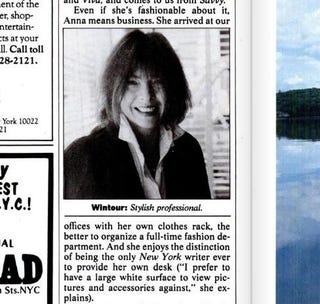 In the summer of 1981, a young British stylist who'd worked at Harper's Bazaar and Savvy landed at New York Magazine. Her job was fashion editor; her name was Anna Wintour. Peep that staff portrait!
In addition to mentioning that Wintour arrived at the magazine with her own desk, New York also notes that in the fortnight their new editor has been on the job, she hasn't appeared in the same outfit twice.



Wintour's first fashion spread for New York starred a young Andie MacDowell posing on a Midtown rooftop in a Rietveld Red Blue chair.



Reader response to Wintour and her aesthetic was mixed.



It took Wintour all of until August 24 to run a spread that linked higher quality pieces with higher prices. "Investing In The Best" advises that "The right looks are also more costly, but well worth it." And they're still pulling that 'investment pieces' line on us now!