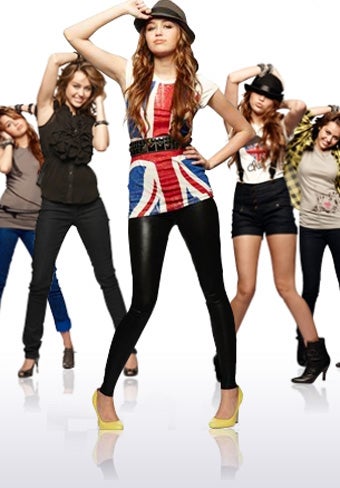 The Miley Cyrus & Max Azria clothing line has arrived at Wal-Mart, and the items are, in a word, derivative. Miley tells People: "My inspiration for the line is kind of an edgy UK style." Style you have seen before:
Take this buffalo check shirt, for instance. The pattern was proclaimed as being "everywhere this season" by the LA Times in November 2008. Silll, buffalo check is actually for sale in Topshop right now, and Delia's is carrying it too. Original? No. But no one can beat the (frighteningly) low $12 price tag Miley and Max are offering.
Another item from Miley Cyrus & Max Azria: Liquid leggings. American Apparel pushed these in 2007; When seen on Nicky Hilton in February 2008, we were instantly over them; Miley seems to think they've got life in them yet! Miley gushes: "I'd say anyone from age 8-80 can enjoy this line." Maybe she means "as a source of amusement"?