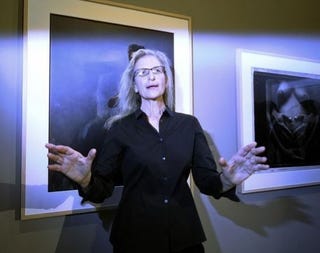 When Annie Leibovitz essentially pawned her life's work in exchange for $15.5 million from Art Capital Group, the Times noted of such deals, "This little-known corner of the art business is lightly regulated and highly litigious." Now she's being sued.
Leibovitz is a famed photographer who shoots for titles like Vogue and Vanity Fair — her staff contract with the latter is rumored to net her a cool $2 million per year — and does commercial freelance work for corporations like Disney and luxury behemoths like Louis Vuitton.
Her financial difficulties are not news; Leibovitz first approached Art Capital for a $5 million loan last fall, and borrowed another $10.5 million in December. Art Capital typically charges 6-16% interest; a $5 million principal carried at 6% compound interest for two months, plus an additional $10.5 million loan, also at 6% interest, compounded through this month, would equal just over $24 million, which is in fact the sum that Art Capital filed suit for Wednesday in New York's supreme court.
As collateral, Leibovitz offered the titles to her three Greenwich Village townhouses, and her home in upstate New York — and the rights to her entire archive of work. But why would such a famous artist — and one of the most commercially successful photographers the world has ever known — need to pawn the rights to every photograph she has ever taken or will ever take until the loans are repaid?
Leibovitz was said by the Times to require the $15.5 million line of credit to pay off mortgages and unspecified "financial stresses." Those stresses would seem to include:
When news of Leibovitz's financial difficulties first surfaced, there was speculation that the photographer was left cash-strapped when she inherited property from her longtime partner, Susan Sontag, in 2004; as an unmarried gay couple, Leibovitz would have been required to pay a steep 45% tax on any inheritance. But it turns out that Sontag and Leibovitz were no longer together by the time of Sontag's death; the essayist bequeathed the bulk of her estate to her son, David Rieff, and in her will left Leibovitz only a maximum of four "articles of my tangible personal property." So, issues of blatant unfairness in the federal inheritance laws aside, it wasn't the "gay tax" that cost Leibovitz millions.