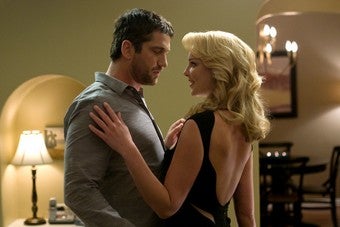 I thought The Ugly Truth was going to be about a driven, idealistic woman who learns that all men are assholes and falls for their king. Turns out, I hated it for a completely different reason.
Warning: Spoilers follow, insomuch as any part of the plot of this movie can truly be spoiled.
As we summed up last week, The Ugly Truth follows TV producer Abby (Katherine Heigl) and raunchy host Mike (Gerard Butler), whose show basically tells viewers that all guys think with their dicks and the path to a successful relationship is paved with blowjobs. Abby, meanwhile, is holding out for a man who loves red wine, cats, and emotional connection, and when she meets such a man, she enlists Mike's help in snagging him. Said man (I was going to look up his name, but I think it says more about the movie that I've forgotten it, and you don't need to know it either) is a totally uninteresting and asexual cipher, and it's no surprise that Abby falls in love with Mike instead.