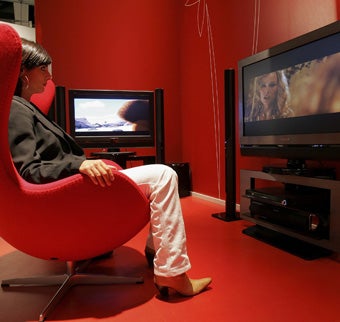 That's the question that Violet Blue attempts to answer (with good humor) in, of all publications, O Magazine... and she's not buying the common explanation that it's because women's fantasies are romantic instead of raunchy.
First off, Blue admits that a lot of porn is just really bad, as in: too lame, too campy or too cheesy. She says:
For me, the real problem with most porn is its hokeyness — the ridiculous costumes, the awful cinematography, the ludicrous story lines, the terrible acting (not to mention how scary the close-ups sometimes look, how fake the boobs are, how some starlets really sound like injured animals...).
Though, for some people, those things aren't a turn-off, for plenty of people, they probably are.
Blue also says that some people compare themselves unfavorably to the porn stars on-screen.
And yet in my research and experience, the biggest roadblock for women (and men) to enjoying explicit imagery is the fear that they don't "stack up" to the bodies and abilities of the people onscreen. Erotic models and actresses bring up a whole range of adequacy issues, from breast size to weight, from what you look like "down there" to the adult acne we all periodically fight.
Many of us recognize that seeing images of thin models and actresses can make us more insecure about our own bodies. But with pornography, which involves explicit, sexual nudity of women often surgically enhanced to fulfill some unattainable ideal of female attractiveness - and participating in the portrayal of an act that many women have issues with already - personal discomfort can be taken to a whole other level. Pornography plays into the false idea that to be sexually attractive to men, or good in bed, there are certain things women have to do, be, look like, act like or enjoy, whether or not we actually can, are, look like, act like or enjoy those things.
Blue also takes note (although not by name) of Canadian scientist Meredith Chivers' research showing that women exhibit physical arousal by sexual imagery even when they consciously report not feeling it. From this research, Blue draws a relatively logical conclusion.