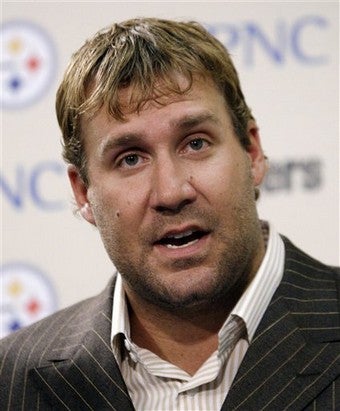 Andrea McNulty, a hostess at a Lake Tahoe Harrah's, is suing Steelers quarterback Ben Roethlisberger for raping her. So why did ESPN tell its reporters not to cover the suit?
McNulty says that when Roethlisberger was staying at Harrah's, he called her to his room claiming his TV was broken. When she got there, the TV was fine, and he pushed her onto the bed and raped her. When she reported the assault to security chief Guy Hyder, he said that the president of the casino was friends with the quarterback and that "most girls would feel lucky to get to have sex with someone like Ben Roethlisberger." McNulty was afraid to report the assault to the police, for fear that Harrah's higher-ups would side with Roethlisberger and she would be fired. She fell into a depression, and while she was hospitalized, Hyder got keys to her house from her parents, and deleted files from her computer. Needless to say, no one from Harrah's ever investigated the rape.
After the AP reported on McNulty's lawsuit, ESPN told reporters not to pick up the story, ostensibly because criminal charges had not been filed. ESPN news director Vince Doria said, "We don't think it meets our standard of reporting." But Mike Florio from NBC Sports says, "we're convinced that the Roethlisberger story initially was ignored due to concerns that ESPN would be jeopardizing its access to the two-time Super Bowl-winning quarterback, who also happens to play for the team with the most loyal and rabid fan base in America."
Eventually ESPN did report on the civil suit, but at every step of the way, Ben Roethlisberger had friends with a vested interest in keeping McNulty's story quiet. And that, says Jaclyn Friedman of Yes Means Yes, "is what rape culture looks like." She points out that ESPN is "the same network whose sideline reporter is currently being exploited all over the 'net in a peeping tom video." She continues,