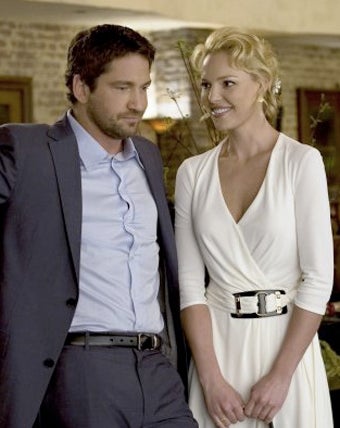 It's funny how often the worst films yield the most interesting reviews. Critics find The Ugly Truth misogynistic, unfunny, and formulaic, but the film has inspired some excellent commentary on the awful state of women in romantic comedies.
The film, which comes out today, focuses on Abby Richter (Katherine Heigl), a Sacramento morning show producer who is extremely competent at her job, but so businesslike in her personal life that she brings along a checklist of desirable traits on a blind date. Her show's ratings are down thanks to the vapid married hosts (Cheryl Hines and John Michael Higgins) so Mike Chadway (Gerard Butler), a shock jock-like TV broadcaster, is brought onto the show. Though Abby finds Mike and his "Ugly Truth" segments disgusting, she inexplicably agrees to let him advise her on her love life and produce her dates so she can win over the doctor she's seeing (Eric Winter). So basically, as in most other recent romantic comedies, the icy, under-sexed professional women must compromise her ideals and let the immature, boorish male character teach her how to let loose... and love again.
Every single review calls The Ugly Truth misogynistic, which is perhaps surprising because was written by three women. Two of the screenwriters, Karen McCullah Lutz and Kirsten Smith, and director Robert Luketic were behind Legally Blonde and have worked on other superior comedies including 10 Things I Hate About You and The House Bunny. Similarly confusing: why Katherine Heigl, who complained that her film Knocked Up was sexist, co-produced a film (with her mom) that is (disputably) more anti-female than Judd Apatow's oeuvre. Heigl and the screenwriters have all said in interviews that they were excited that the film's R rating allowed them to be as raunchy as they wanted, but we've already considered the possibility that the new "naughty girl movement" in comedy is actually pretty sexist (and been turned off by Katherine Heigl's lengthy orgasm scene). Below, critics weigh whether The Ugly Truth is just another lousy, forgettable film or the symptom of a larger sexist trend in today's romcoms.