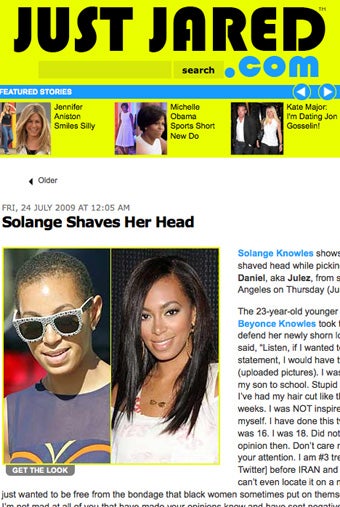 Solange Knowles, Beyoncé's sister, cut her hair recently; photos surfaced late yesterday. Apparently this is something a woman is not supposed to do.
Yesterday evening, Solange was the number three trending topic on Twitter. For cutting her hair.
The Daily Fail accused Solange of "doing a Britney," even thought Britney shaved her head right down to the scalp and Solange has a close-cropped, natural haircut.
The piece by Donna mcConnell read:
[Solange] once playfully said she would 'go crazy like Britney' if people kept comparing her to her sister.

And it seems she might finally have flipped as she hit the streets of Los Angeles in a new shorn hairstyle yesterday.
A Daily Fail commenter added: "She is trying to copy the newest black icon Amber Rose… I think she looks terrible."
A reporter for MTV News wrote: "The motive is still unclear, but considering how gorgeous her mane was, it's not a great style choice."
On trashy site The Hollywood Gossip, Solange's decision to crop her 'do was called "batshit insane."
So. It's not "batshit insane" for a black woman to wear a flesh-eating lace-front wig, or to glue a weave to her head, or to process her hair to be unnaturally silky and straight. But it is crazy for her to cut it off? Got it.