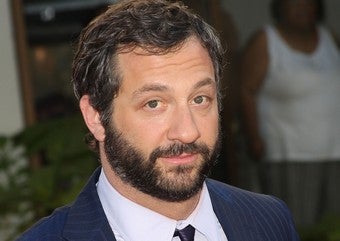 In advance of the release of his new movie Funny People, Judd Apatow is telling the media that he's not a sexist, and that Seth Rogen is a modern-day Robert DeNiro.
In answer to claims that his movies are sexist, Apatow says,
I think, really, what a lot of these issues are is that women are romanticized in movies. [My] movies go pretty hard at having women have as many problems as men. They make mistakes that are as big as men's. So when someone says Knocked Up seems sexist, I'm like, 'Really?' I mean, Seth [Rogen] has an earthquake, and he grabs his bong before his pregnant girlfriend. That's pretty bad. But I try to weigh it evenly so it's not really about men or women; it's just about miscommunications and us at our worst. Because people at their best I don't really want to watch in entertainment. I don't really want to watch mature people or smart people or people who do the right thing. I like to meet them in life, but I don't find them entertaining. And certainly not funny. So I feel like the worse people are, the more amusing [it is] and the more I root for them to figure their shit out.
Of course, no one has said that the men in Apatow's movies are model citizens. In fact, a major criticism of Knocked Up was that Heigl's character was actually too good for Rogen's immature stoner, and that her decision to stay with him was unrealistic. Apatow sees these criticisms as not just wrong, but anti-Semitic. He says,
Isn't that the code? 'Shiksa goddess shouldn't be near the Jews?' Diane Keaton was pretty cute. How did Woody Allen get her? I have my own shiksa goddess.
Whether or not Knocked Up's critics are anti-Semitic (some of them may well be simply looksist), Apatow has a lot to say about Rogen's charisma: