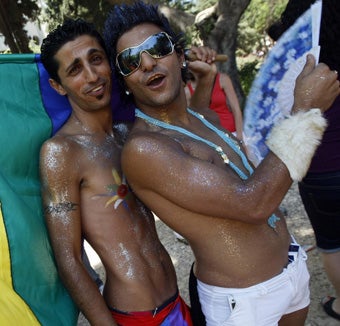 Social conservatives are not keen on LGBT Americans. They use the word "abomination," they cite Sodom and Gomorrah, they fund multimillion dollar campaigns to deny same sex couples the right to marry. So why are they obsessed with anal sex?
Steve Chapman of the Chicago Tribune notes the right's recent fascination with the thought of being anally penetrated by Barack Obama.

Rush Limbaugh has complained, "We are being told that we have to hope he succeeds, that we have to bend over, grab the ankles . . . because this is the first black president." You can buy T-shirts and bumper stickers that say, "Bend over, here it comes," with the "o" in "over" duplicating the one in Obama's campaign logo. National Review's latest cover features a cartoon of Obama grinning diabolically in a doctor's lab coat, pulling a latex glove over his hand, and saying, "Just relax."
Certainly, this a step up from Rick Santorum's attraction to dogs, or Glenn Beck's unhealthy fascination with his sister or conservative writers David Klinghoffer and Joshua Berman's entire oeuvre; it's also part of a strikingly similar pattern: conservatives who seem obsessed with sex acts they claim to abhor. (Can anyone say "projection"?)