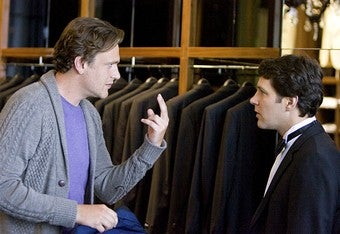 Today's Wall Street Journal has a pretty simplistic take on how men and women talk about their relationship problems. But underneath the annoying Mars/Venus language, does the Journal have some (sort of) good advice about oversharing?
Elizabeth Bernstein opened for peace with the charming tale of two men having a heart to heart — about motorcycle oil. She writes,
It's no big secret that men don't share their emotions easily. Numerous research studies-and millions of baffled women-can attest to that.

But is it really so harmful if men want to keep their feelings hidden? And don't women share too much, yammering on about their husbands to friends, co-workers and sometimes even strangers?

The answer to both questions is an emphatic yes.
O rly? Bernstein follows this assertion up with anecdotes about men whose relationships failed because they couldn't bring themselves to ask for advice, and a woman who complained about her husband to "her mom, friends, co-workers, housekeeper, husband's best friend and two radio stations." The couple reconciled, but, unsurprisingly, he now feels uncomfortable around her family. Bernstein rounds out her discussion with a mention of the amateur gender theorist's hormone of choice, oxytocin. Apparently it helps women bond with each other, but testosterone limits its effects on men. Or something like that.
But is having the whole town up in your business really the biggest problem with oversharing? A study last year suggested a more pernicious effect — "co-rumination," or discussing the same problems over and over, can increase depression and anxiety in girls. Boys have fewer of these types of conversations, and seem to suffer fewer ill effects when they do.