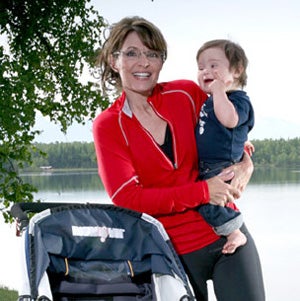 Wing Nut Daily's Olivia St. John is here to disabuse you of any notion that there were no conservatives cheering Sarah Palin's resignation. She thinks it's about time Palin got right with God... and got to making Todd a sandwich.
Ms. St. John applauds what she calls Palin's "declaration of independence as a woman" because there's a chance she'll do what's right and keep from disenfranchising and emasculating men. She doesn't think it's a big chance, though. Why?

Palin is an avowed feminist. As such, her husband and children have to fall in line behind her career goals. If everyday actions speak louder than words, then she holds more affinity with her pro-abortion feminist sisters than with her conservative sisters nursing babies at home.
Crazytown assertions aside, Palin has what might be called a difficult history with her "avowed" feminism. She belongs to an anti-abortion group called Feminists for Life: she told Katie Couric she was a feminist; she later told Brian Williams she didn't like labeling herself like that. What Palin is, no doubt, is a beneficiary of feminism — and that's what St. John has a real issue with.