Jean-Paul Gaultier never had formal training as a designer, but rose to fame creating whimsical and theatrical confections: Madonna's cone bra; the costumes for Luc Besson's The Fifth Element. His collection shown in Paris today was playful, retro and glam.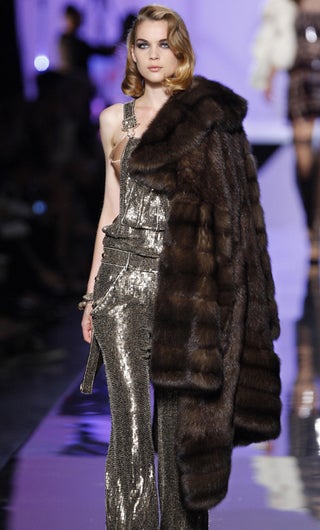 S
Where does one go in sequined overalls and a mink? And when one arrives, can one sit down without ruining ones ensemble?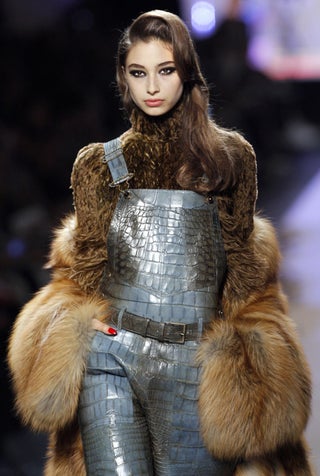 S
So many dead animaux, so little pretty.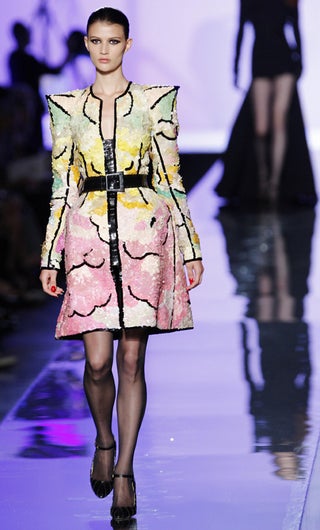 S
Think this coat is all about strong shoulders? You may have a point.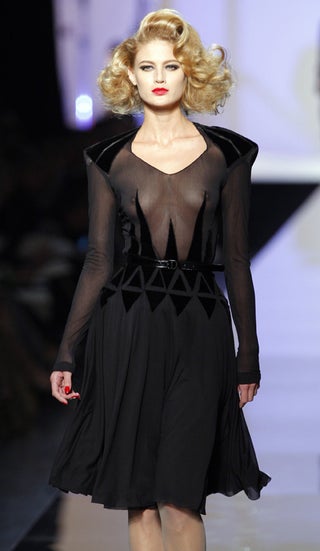 S
Beautifully cut, with art deco details — an opaque version would be heavenly.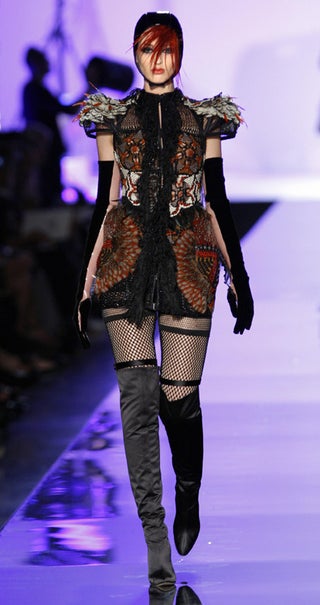 S
Are the hair and the thigh-bands a nod to Leeloo? Also — pay close attention to those gloves, which are clear on the inside of the arm and velvety on the outside.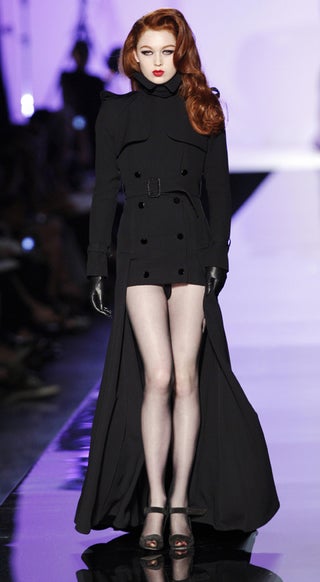 S
The man knows drama; this coat is a spectacle.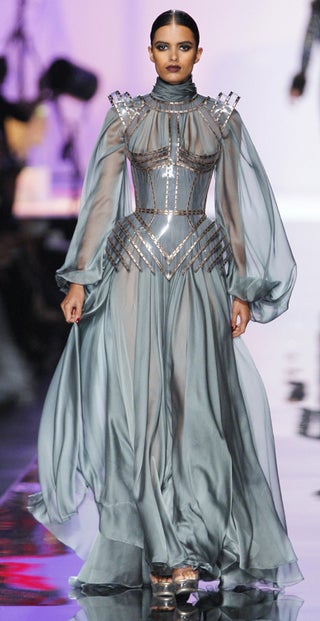 S
This gown would be at home on the set of Serenity or on any inter-galactic red carpet.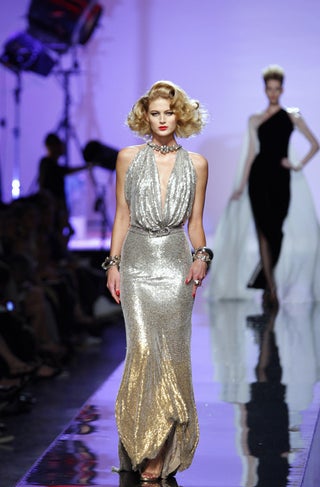 S
If you like your silver screen goddess looks straight up, no chaser, this is it. Maybe not the most inventive dress, but stunning as it channels the '30s.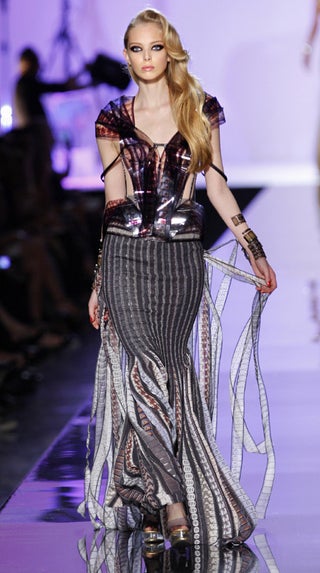 S
Here's where the "whimsy"comes in — those are film strips on her bodice.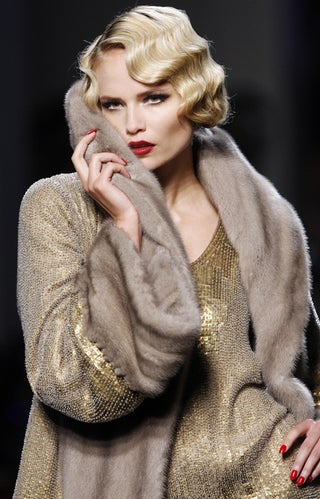 S
Someone's been watching a lot of old movies.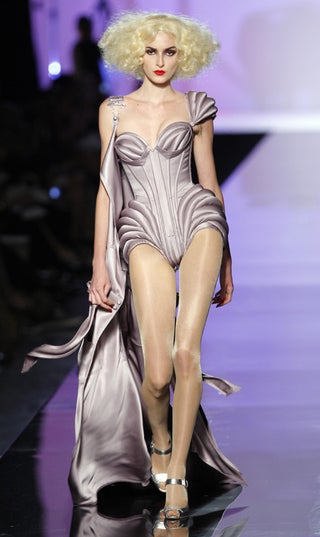 S
What is this? Part Chrysler building, part Airstream trailer, part Pontiac Silver Streak, this (swimsuit? leotard? playsuit?) has Lady GaGa's name on it.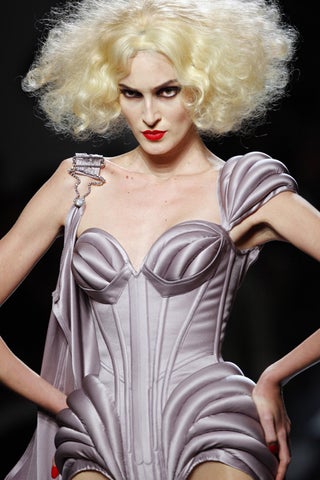 S
Attitude not included.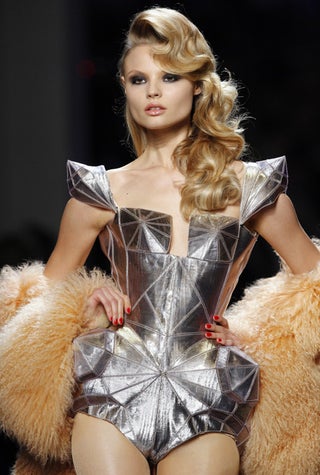 S
More steam-age meets space age. The structure is reminiscent of Thierry Mugler's motorcycle or Metropolis bustiers. But softer, with bling-shaped hips and shoulders.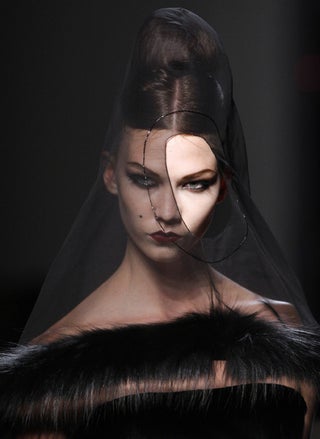 S
Even if you wouldn't wear any of this, it's hard not to appreciate the fact that there is capital D Drama in every detail.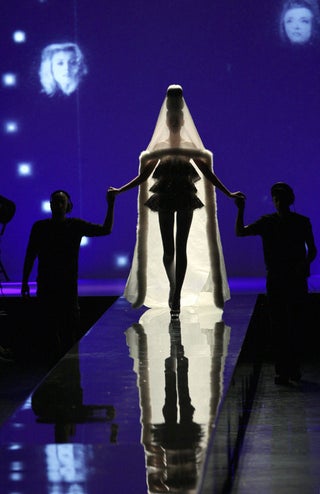 S
The silhouette here is very similar to that of the Diva Plavalaguna.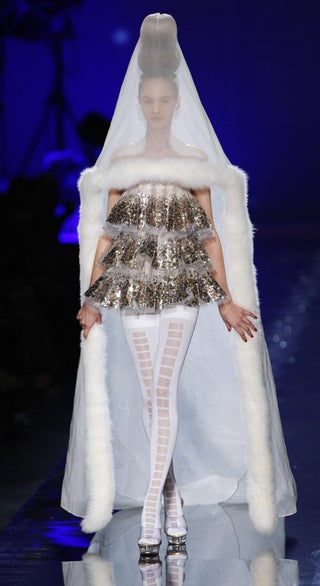 S
The Diva would not have worn a baby-doll dress with plastic platform shoes, though, would she? Luckily, in space no one can hear you scream.
Earlier: 51-Year-Old Gallic Supermodel Walks For Gaultier
Gaultier Fashion Show
Velvet D'Amour: "My Quest Is To Diversify Notions Of Modern Beauty"
The Fur Flies At Jean-Paul Gaultier
Fashion Show: Gaultier
Jean Paul Gaultier's Biker-Beekeeper-Pirate-CorpseBride Chic
[Images via Getty.]