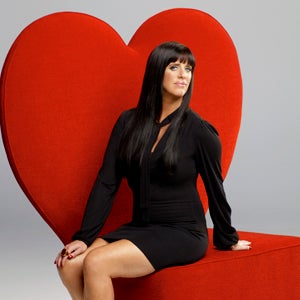 In a piece for n+1, Emily Gould shows us what you get when you take Millionaire Matchmaker as an exemplar of our culture's attitudes toward love and marriage. The results: kind of depressing.
The easiest thing to dismiss about the matchmaker herself, 47-year-old and notably unmarried Patti Stanger, is her emphasis on a purely mercenary view of coupling. In addition to her show, she's written a book called Be Your Own Matchmaker, "aimed at women who hope to find love offscreen" (does it even count then?). The book calls wealthy suitors "buyers" in a way that Gould suggests isn't even really metaphorical. And the show itself, with its homogeneous beauty standards, its superficial and capricious screening process, and its creepy, brothel-like "mixers," encourages relationships "founded on the idea that a man's job is to make money and a woman's job is to be one of the possessions he buys with it." Ick, right?
More existentially upsetting is what Gould thinks Millionaire Matchmaker says about American ideas of love and marriage. She writes,
Patti [...] is convinced that there are biologically determined laws that govern why women and men are attracted to one another, and if you know these laws you can exploit them to your advantage whether you're a man or a woman. That idea is what Patti sells-not, as it turns out, "LOVE." But the inarticulable problem for the show is that when you reduce people to their basest caveman impulses it becomes hard to then shunt marriage back into the equation. No evolutionary biologist will ever tell you that humans have evolved to mate for life. Lately some of them will tell you that humans have evolved to pair-bond for four-year increments (about as long as it takes to get a child up and running), which seems about right. This information is not particularly hard to come by. But a weird thing about the show, and about American culture in general, is that we are so eager to hear and believe scientific and pseudoscientific explanations of why people "fall in love," but then we cover our ears and hum so that we don't hear the end of the sentence, which is about why people fall out.
Of course, some people do offer explanations for why we fall out of love, but these people are mostly idiots. Plenty of self-help books will tell you that a man tires of a woman because she can't make a decent brisket, has fuchsia sheets, or lets him see her removing body hair — or because she makes the mistake of trying to be friends with him. But even the smartest-sounding of these ideas don't actually explain why most relationships end, and they may even be more insidious than the ridiculous ones, because at least thinking people are unlikely to explain their love lives based on sheet color.