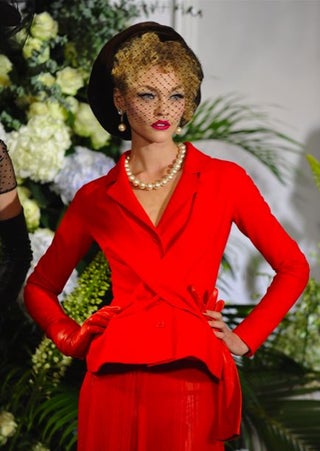 S
The Christian Dior couture show in Paris today was a beautiful, if somewhat familiar, ahistorical jaunt. Part part 80s lingerie-as-outerwear, part stiff New Look peplums, and part 30s bias satin slips, the collection was topped with Stephen Jones' extraordinary hats.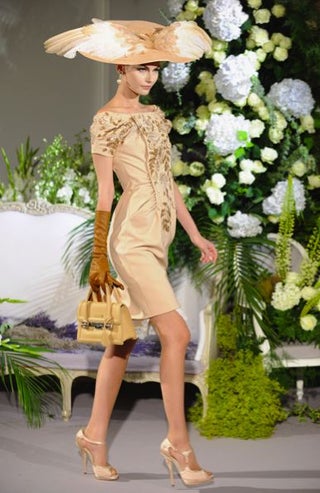 S
Like this one, which we could imagine actually taking flight.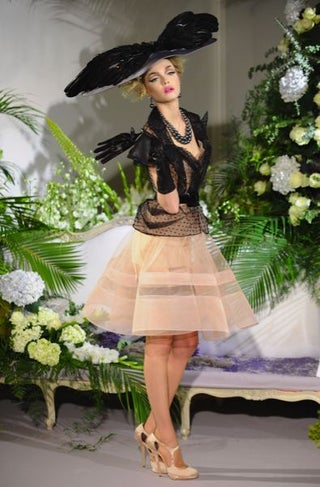 S
The collection was presented at Dior's gray salon on Avenue Montaigne. The label's PR department tried to play the move as a return to the essence of the brand, but it can't be entirely coincidental that Dior has sought to avoid the expense of a location show in a year when all the major couture houses are expecting significant drops in orders.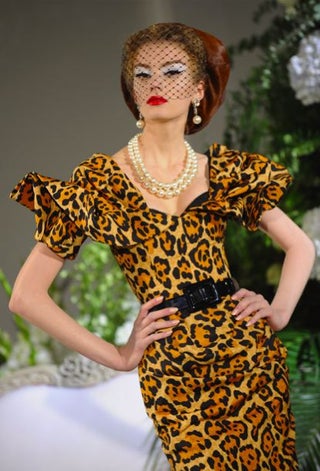 S
Makeup artist Pat McGrath gave everyone Dovima brows.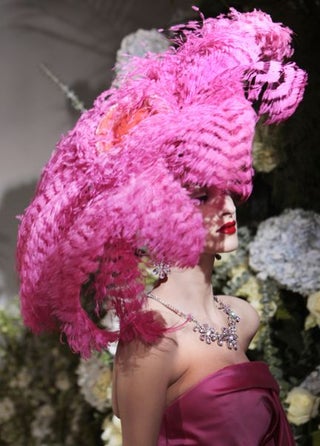 S
Hat or sea anemone?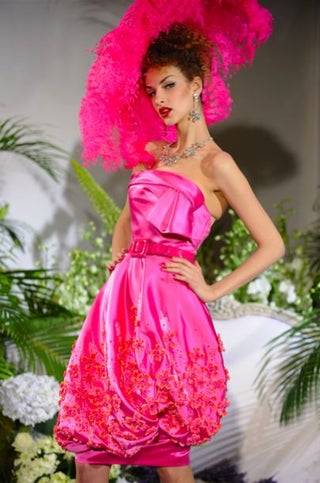 S
Hat.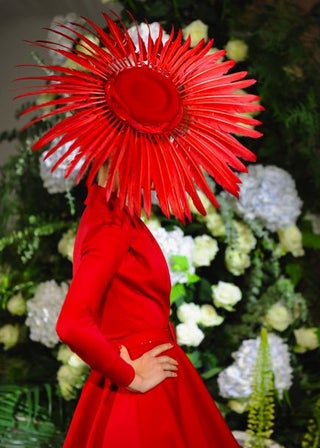 S
Hat or daisy?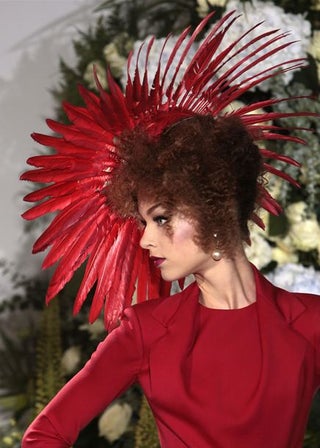 S
Hat.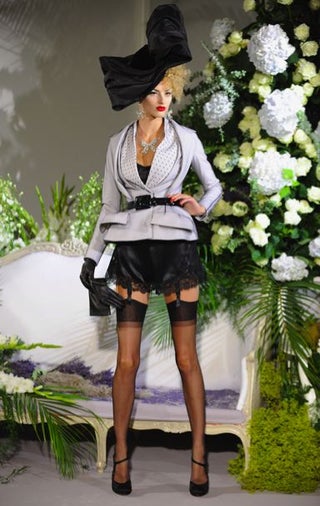 S
John Galliano named this collection "C'est la fievre de la cabine", or Cabine Fever ("cabine" in French means both "cabin" and "dressing room.") Which explains all the lingerie-inspired touches, like visible girdles, visible slips, and visible stockings.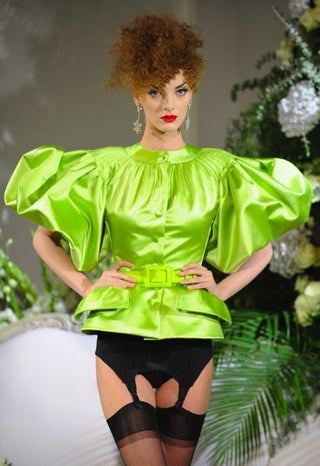 S
As well as occasional total bottomlessness.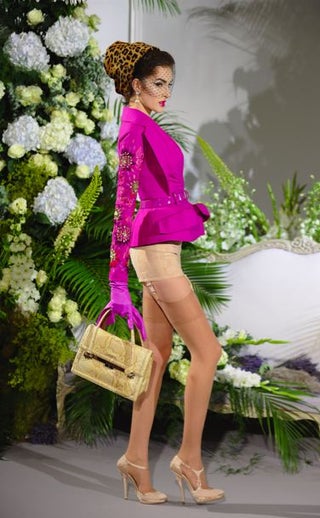 S
Did we say occasional?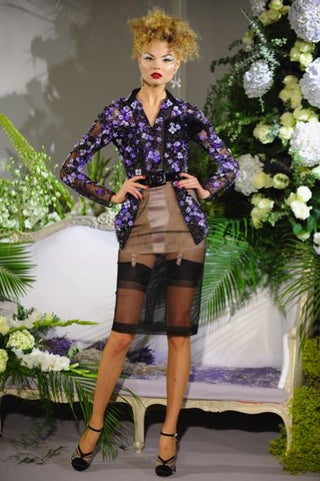 S
Clearly, the whole no pants thing remains hot for fall.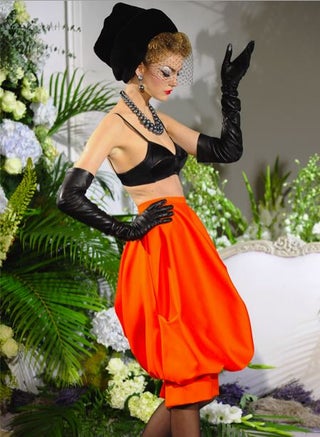 S
Not that Mr. Galliano doesn't throw toplessness a bone now and then!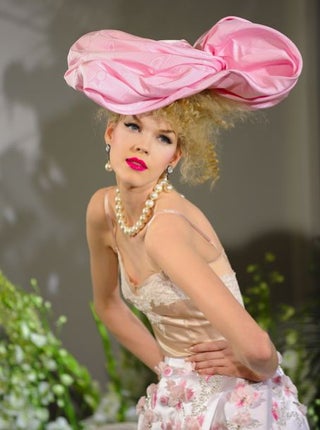 S
There's a reason Tyra calls it "couture pose."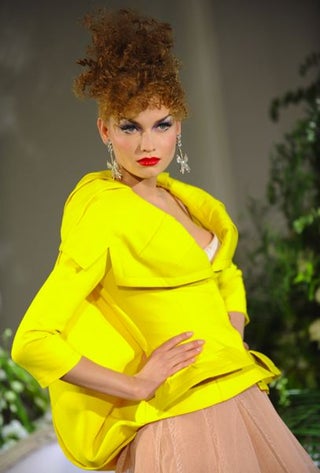 S
Let's hold an imaginary pose-off, right now!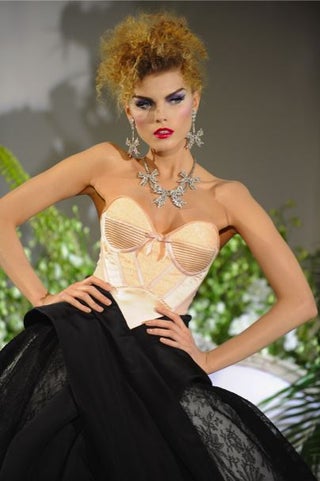 S
Even 1987 Madonna can't deny the appeal of the clavicle-pushing shoulder hunch.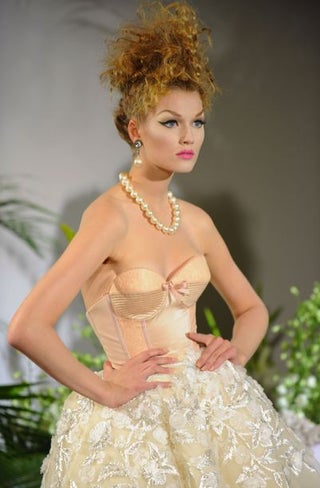 S
But this girl wins.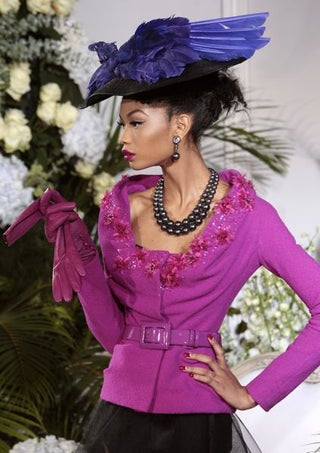 S
Chanel Iman's hat is giving off shades of Carrie Bradshaw's wedding.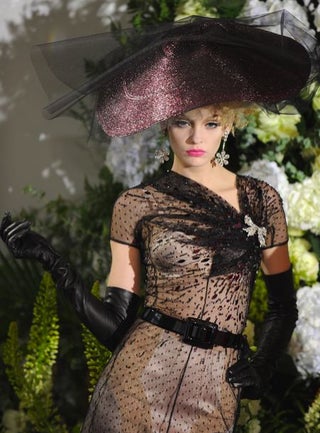 S
Galliano loves his sheer fabrics. And when he can cut like that, who can blame him?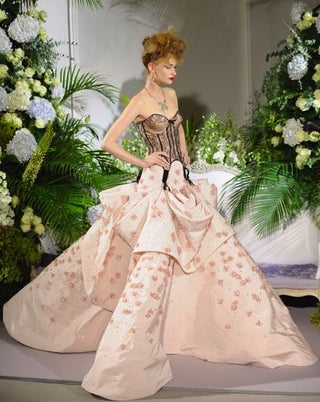 S
Some of these dresses, however, we have seen before.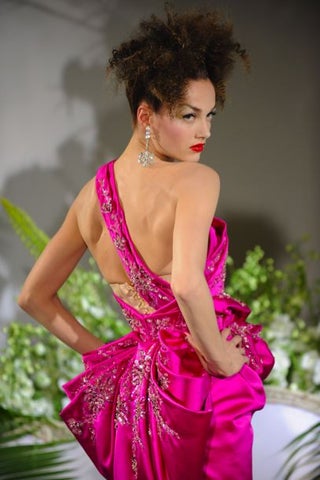 S
Is this what we can expect from designers right now? Is it the economy, all those "consumers want to invest in classic pieces" warnings taken too much to heart? Whatever has driven Galliano back into the archives can't but disappoint those acquainted with the range of his genius. It remains to be seen whether customers will fork over tens of thousands for dresses that are merely beautiful.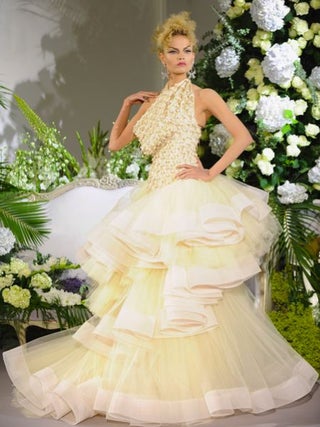 S
But when he's on, he's on.