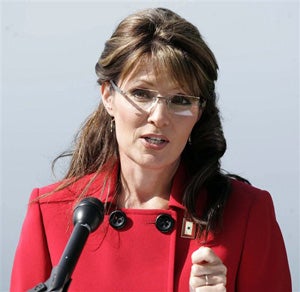 Love or hate Sarah Palin — and few people do anything but — one must admit that she's been simultaneously a boon and a bust for women in politics. My postmortem of her political career, after the jump.
The Good
1. She got conservatives talking about sexism
She got them talking about sexism coming from the other side of the aisle, true, but after last year's primaries, did anyone really think that such a thing didn't exist? Sarah Palin acknowledged the role Hillary Clinton played in breaking the glass ceiling — thereby acknowledging the existence of a glass ceiling in the first place. She got everyone from Rush Limbaugh to conservative women talking about sexism in the media after many of them spent quite a few months perpetrating it, from "nutcracker" comments to "first wife" comments and everything in between. And once you acknowledge that women don't have it the same as men in politics and the workplace, you can't exactly go back.