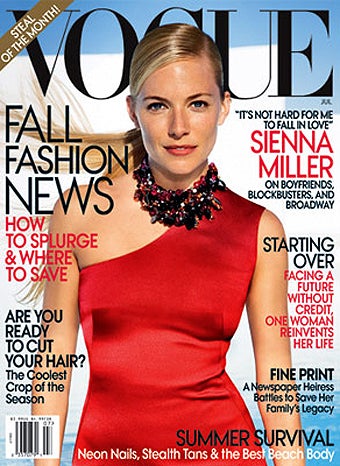 Scandal: The July issue of Vogue features items — from J. Crew and Gap — priced at $50 and under. But don't worry, the high-fashion glossy is not going totally budget-conscious:
"We tend to, when we pull something in to photograph it, have an exclusive," Sally Singer, fashion news and features director for the magazine, tells The New York Times. Because even though the country is in a recession, it's important for Vogue to show readers stuff they can't actually have. It's aspirational! And Singer claims that Vogue has consistently offered a mix: "We've always shown a wide range of price points and lower-priced items," she said. "As long as Anna Wintour's been at Vogue, from her first issue, she had jeans on her cover with a Christian Lacroix top. She's always had a high-low sensibility."
But while there may have been some steals, we all know the magazine ultimately focuses on the pricey items — remember the $64,300 24K-gold mink coat?