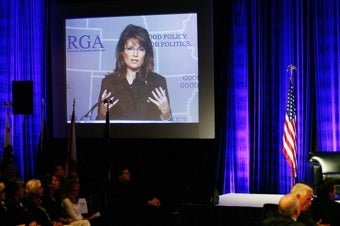 In a way, at this point, it is hard to be shocked by anything Sarah Palin does. Her time on the national political stage has been marked by scandal, controversy, and general wackiness all around.
It's been almost a year since John McCain selected Sarah Palin to be his running mate in the 2008 election; our first introduction to Palin was as Sarah Barracuda, the pitbull in lipstick, the threat that could steal disenchanted Clinton supporters away from the Obama/Biden ticket based only on the fact Palin and Clinton shared a gender, and little else, in terms of policy or political views.
But weeks later, the weirdness kicked in and only snowballed from there; the rumors, and later confirmation of, Bristol's pregnancy, the rumors that Palin might not have given birth to her son, Trig, the Troopergate scandal, the Bridge to Nowhere, the devastating Tina Fey impression, the painful Charlie Gibson and Katie Couric interviews, the winking issues during her Vice Presidential debates, and the $150,000 spent on clothes and makeup during her time on the trail. It got to the point where a "shocking" story about Sarah Palin wasn't actually shocking at all, but frustrating, in that it appeared that Palin remained unfazed by the negative press and always seemed to find a way to spin it to her advantage.
So when Palin resigned on Friday, in the midst of a holiday news dump, no less, it was both shocking and, in a way, not surprising at all. Palin herself claims that she "is not wired to operate under the same politics as usual," and her decision to step down, effective July 26, has left many wondering what her true motivations for leaving her post might be.